Concert and Fireworks Mark 69th Anniversary of FLW
Kim Jong Un (Kim Cho'ng-u'n) and his wife Ri Sol Ju (Ri So'l-chu) attended a large concert and fireworks display commemorating the 69th anniversary of the armistice of the Fatherland Liberation (Korean) War was held near the  monument to the Victorious Fatherland Liberation War in central Pyongyang on 27 July.  The event took place while the "whole country is overflowing with a firm faith and will of the people to succeed as a blood vessel of the fighting spirit and tradition of victory, the revolutionary legacy bequeathed by the heroic generation of war participants, and accomplish the revolutionary cause of Chuch'e without fail on the occasion of the great war victory day that provided an eternal foundation for all victories in the course of the development of the glorious Democratic People's Republic of Korea (DPRK)."
The venue of the ceremony "imposingly stands as the main statue of victory representing the dignified picture of heroic Korea that pronounced for the first time in history the shameful destruction on the US, chieftain of world imperialism, was filled with delight and passion of all the participants who significantly commemorate the great war victory day as a grand festival of glory and succession."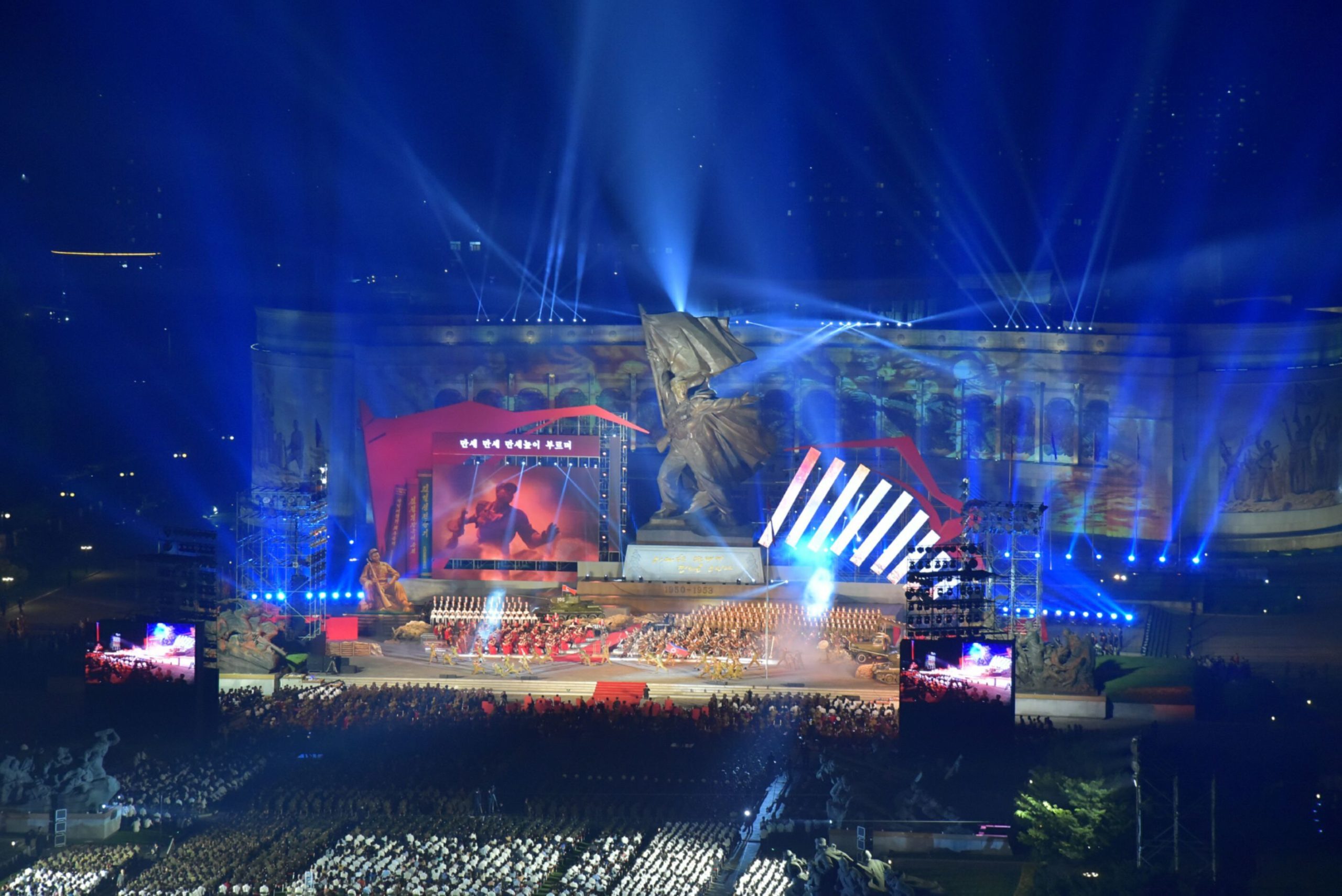 The Ministry of National Defense band played a selection of military songs and the Korean People's Army [KPA] honor guard performed rifle drills.  There was a fly-past of KPA Air Force planes and a paratrooper demonstration.  Kim Jong Un and Ri Sol Ju arrived and greeted various retired senior officials who served in the Korean War including former DPRK Premier Choe Yong Rim (Ch'oe Yo'ng-rim), former Chief of the KPA General Staff VMar Ri Myong Su (Ri Myo'ng-su), former Senior Deputy Director of the WPK Organization Guidance Department (OGD) Kim Kyong Ok (Kim Kyo'ng-ok), former WPK Munitions Industry Department Director Thae Jong Su (T'ae Cho'ng-su), former KIS Higher Party School President Kim Si Hak (Kim Si-hak), former director of the DPRK Central Prosecutors' Office Ri Kil Song (Ri Kil-so'ng) and former Minister of Public Security Ju Sang Song (Chu Sang-so'ng).
KJU sat with Gen. Pak Jae Gyong (Pak Ch'ae-kyo'ng), who currently chairs two war veterans' organizations.  Gen. Pak certainly had an interesting career being involved in interesting North Korean weapons and technology exchanges and serving as deputy director of the KPA General Political Bureau with a portfolio in propaganda and ideological indoctrination.  In the latter position, Gen. Pak led the "Mother of So'ngun (military-first) Korea" political education effort during the early 2000s which would create the conditions for hereditary succession of one of the children of Ko Yong Hui (Ko Yo'ng-hu'i).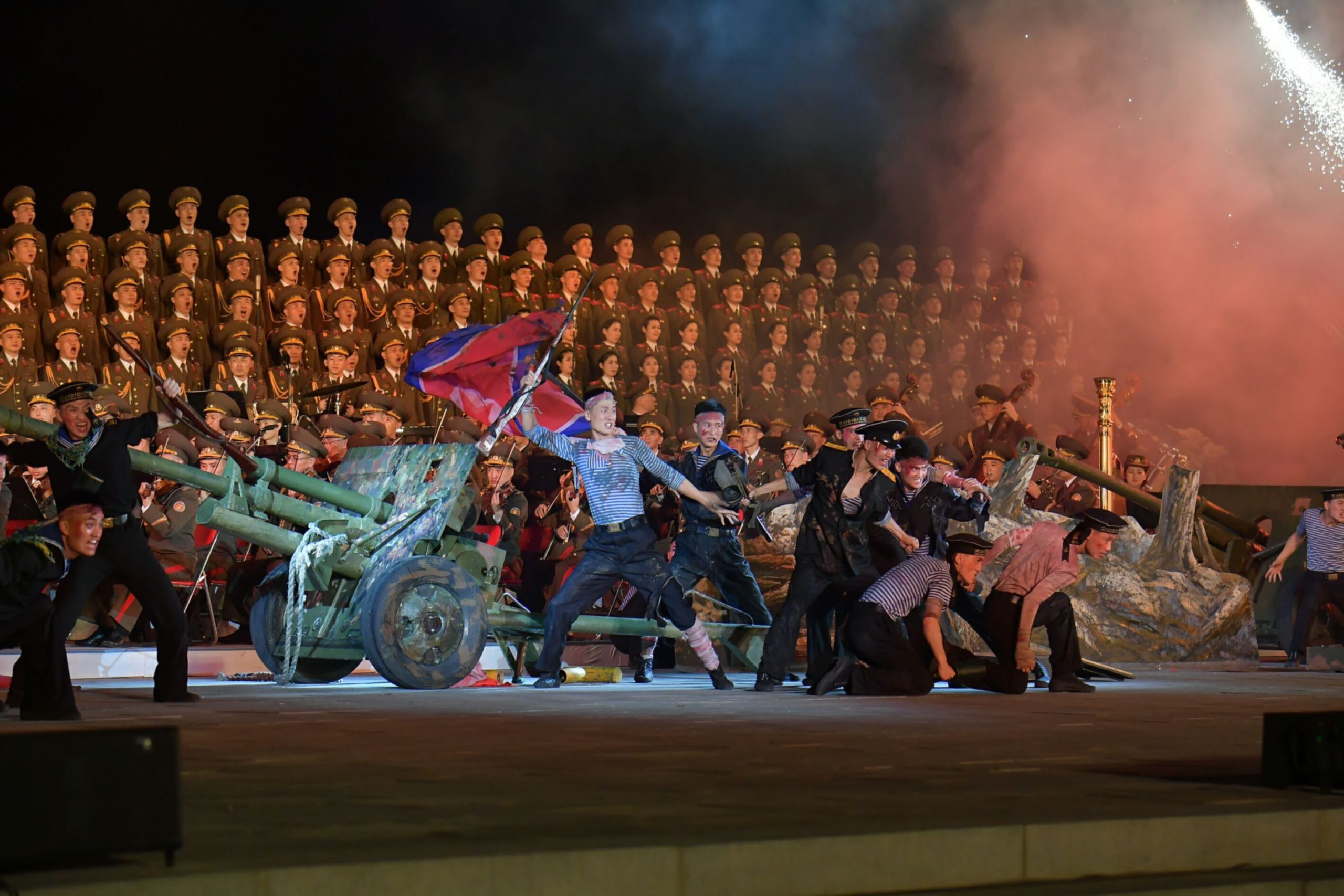 Also in attendance were DPRK Premier Kim Tok Hun (Kim Tok-hun), WPK Secretary Pak Jong Chon (Pak Cho'ng-ch'o'n), WPK Secretary Ri Pyong Chol (Ri Pyo'ng-ch'o'l), WPK Secretary for Propaganda and Agitation Ri Il Hwan (Ri Il-hwan), Minister of National Defense VMar Ri Yong Gil (Ri Yo'ng-kil), Chief of the KPA General Staff Ri Thae Sop (Ri T'ae-sop), KPA General Political Bureau Director Jong Kyong Thaek (Cho'ng Kyo'ng-t'aek), DPRK Foreign Minister Choe Son Hui (Ch'oe So'n-hu'i), WPK Light Industry Department Director Han Kwang Sang (Han Kwang-sang), WPK Military Affairs Director O Il Jong (O Il-cho'ng). WPK Propaganda and Agitation [PAD] deputy director and State Affairs Commission (SAC) member Kim Yo Jong (Kim Yo'-cho'ng), DPRK Vice Premier and State Planning Commission Chairman Pak Jong Gun (Pak Cho'ng-gun), Military Security Command Director Jo Kyong Chol (Cho Kyo'ng-ch'o'l), WPK Munitions Department Director Jo Chun Yong (Cho Chun-ryong), WPK PAD deputy director and KJUPS events director Hyon Song Wol (Hyo'n So'ng-wol), former WPK United Front Department Director Kim Yong Chol (Kim Yo'ng-ch'o'l), former KPA General Political Bureau Director Hwang Pyong So (Hwang Pyo'ng-so') and KJU's unknown, but infamous administrative assistant.  Also in attendance were other WPK and DPRK Governmen cadres, KPA revolutionary history lecturers and exhibition docents. students of the Mangyo'ngdae, Kang Pak Sok and Namp'o Revolutionary Schools, paper pushers and other functionaries of government ministries and national insitutions and residents of Pyongyang.
After the DPRK flag was raised and the national anthem sung, KJU delivered an anniversary speech.  After his speech, according to state media, "thunderous cheers of the generation of war victors and their descendants rocked the sky and the earth again" and the venue of the anniversary event overflowed with "conviction that the future of socialist Korea will be eternally bright and rosy as it is led by Kim Jong Un, who has wisely guided the work to give steady continuity to the Republic's history of war victory as the ever-victorious history, implanting in the minds of our people and servicepersons the spirit of the 1950s as golden letters."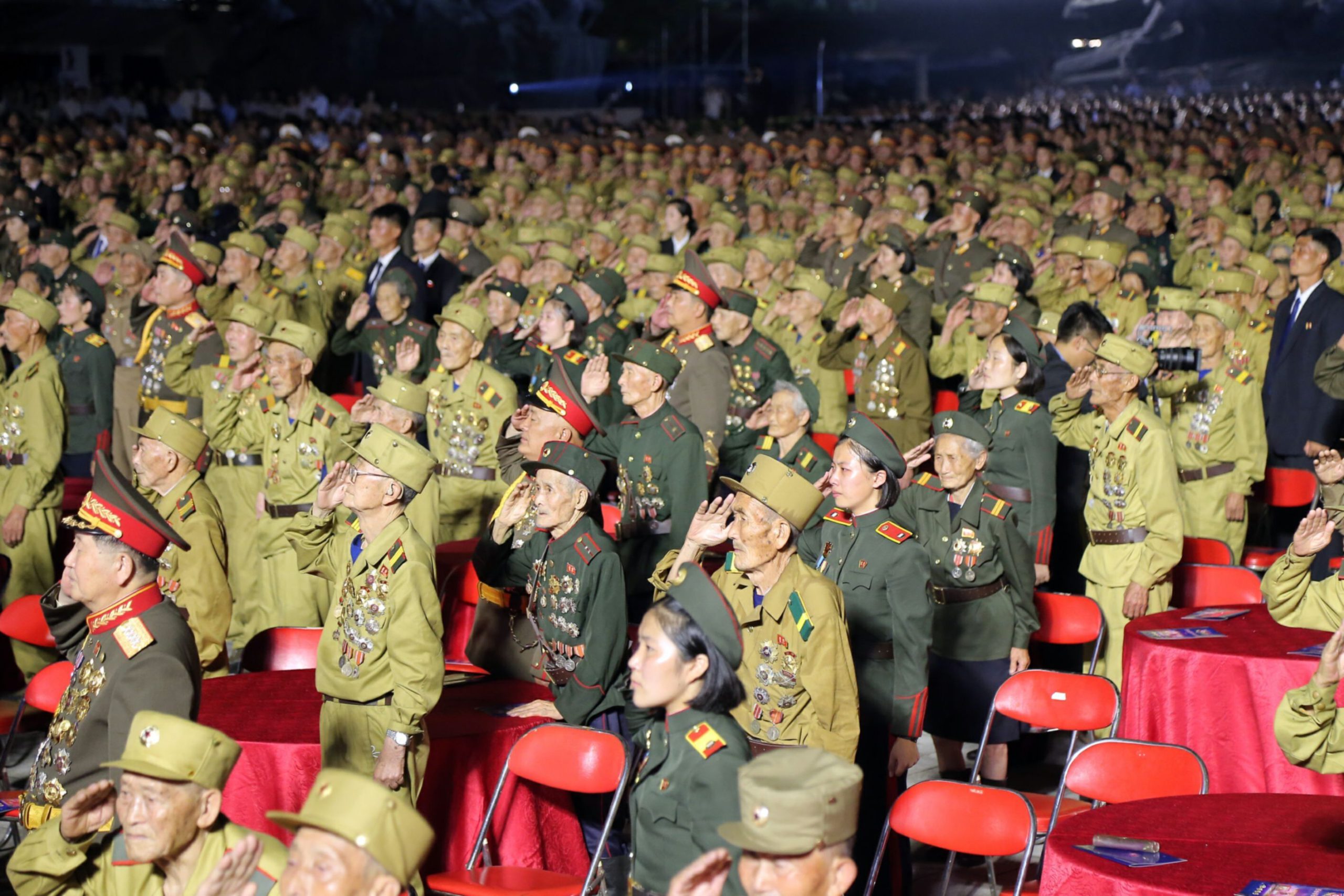 Then, the participants watched a performance of music and skits.  The "stage was full of respect to the war victors who saved the destiny and future of the country by smashing an A-bomb with a rifle and handed down the great fame and honor of being heroic Korea and heroic people to the coming generation."  The audience was "deeply moved by the narrative poem reflecting the solemn pledge of the successor to steadily write a history of war victory in the new century, a heroic epic of the indomitable victor nation, at the cost of their blood and sweat to be proud of in the world, with the absolute faith that victory always belongs to our people and the DPRK as long as they inherit the great heroic spirit of the defenders of the country in the 1950s."  They "enthusiastically applauded the programs full of the will to reliably carry forward our idea and social systems and valuable tradition of victory, defended by the first defenders of the Republic at the cost of their blood, through generations and develop the sacred motherland into the most powerful and eternally thriving country in history."  The performance also acknowledged the contributions of the the Chinese People's Volunteers (CPV) which dealt with "the excellent sons and daughters of the Chinese people who fought, shoulder to shoulder with the Korean people, in the same trench of the war against the imperialists' aggression."
The performance "redoubled the people's readiness to always remain strong and emerge victorious, holding higher the banner of self-sustenance and self-development under the leadership of Kim Jong Un for a wealthy country with a powerful army, preciously pictured by the first and second generations of our revolution in the flames of the war and for the absolute prestige of socialist Korea which no formidable enemy in the world dare provoke."
Kim Jong Un shook hands with veterans and expressed "the conviction that the victory traditions and fighting traits of the great years would become a good nutrient for training our people and younger generation into indomitable patriotic fighters and an inexhaustible source giving steady birth to new victories and miracles."