Biographies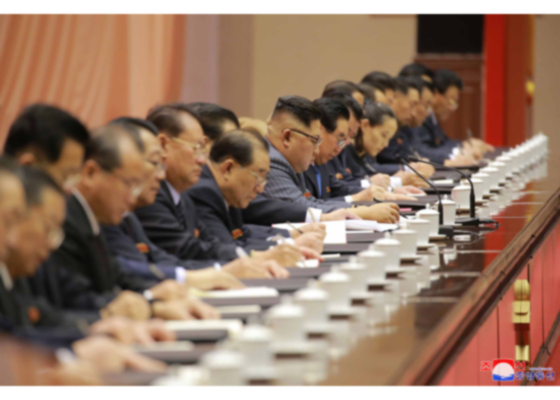 List, positions held and deaths updated and revised June 1, 2018

All biographical sketches have been updated and are current as of June 1, 2018

This is a collection of biographical sketches and chronologies (i.e. CVs) of DPRK elites.
Information contained in these biosketches and chronologies is derived from open source information (books, media reports, government reports, official press statements, essays, academic journals, non-governmental organization newsletters, and international organization reports) including Rodong Sinmun/Korea Central News Agency; Yonhap News Agency and Vantage Point; Naewoe Publishing; Korea Institute for National Unification [KINU], Xinhua News Agency, Korean Journal of Defense Analysis, various official databases and archives, the author's own files and archives, and human sources from the DPRK, Japan and the US.
Readers of this site seeking additional information about DPRK leadership listed below, or who would like to see a biosketch on a particular DPRK elite produced and disseminated  can contact <[email protected]>.
An Jong Su, Director, WPK Light Industry Department (2014-present) (bsk)
Chae Hui Jong (deceased) Director, WPK Document Archive Office (1995-2013) (c)
Choe Hwi, WPK Vice Chairman for Workers' and Social Organizations (2017-present), Chairman of the National Physical Culture and Sports Guidance Commission (2017-present); Senior Deputy Director, WPK Propaganda and Agitation Department (2012-2017) (bsk)
Gen. Choe Pu Il, Minister of People's Security (2013-present);  Member, WPK Political Bureau Member, Central Military Committee; Member, State Affairs Commission (2016-) (bsk)
Choe Ryong Hae, WPK Organization Guidance Department Director (2017-)Vice Chairman of the WPK (2016-); Vice Chairman, State Affairs Commission (2016-) WPK Secretary (2010-2016) Director of the KPA General Political Department (2012-2014) (bsk)
Col. Gen. Choe Sang Uk, former member, WPK Central Military Commission (1980-2010); former commander KPA Special Operations Forces (1980s) (bsk)
Choe Son Hui, Vice Minister of Foreign Affairs (2018-present); Director of the North American Affairs Bureau, Ministry of Foreign Affairs (2016-2016); Deputy Director of the North American Affairs Bureau, Ministry of Foreign Affairs (2011-2016) (bsk)
Choe Thae Bok SPA Speaker (Chairman); Vice Chairman for Science and Education (2016-2017); WPK Secretary for Science and Education (1986-2016);   (bsk)
Choe Yong Rim Honorary Vice President of the SPA Presidium; DPRK Premier (2010-2013)(bsk)
Ho Myong Uk,  Former Director, Office #35 (bsk)
Hong In Bom, Chairman, WPK Control Commission (2016-2017); Chief Secretary (chairman), South P'yo'ngan WPK Provincial Committee (2010-2016) (bsk)
Hwang Pyong So, Senior Deputy Director of the WPK Organization Guidance Department (2018-present; 2013-2014); Director of the KPA General Political Department (2014-2017), Deputy Director of the WPK Organization Guidance Department (2003-2013) (bsk)
Hong Sung Mu, WPK Deputy Director of Machine-Building Industry (bsk)
Hong Yong Chil, WPK Deputy Director of Machine-Building Industry (bsk)
MAR Hyon Chol Hae,  1st Vice Minister of the People's Armed Forces (2012-2013); Director, NDC Standing Bureau (2007-2012) (bsk)
Col. Gen. Hyon Yong Chol, Minister of the People's Armed Forces (June 2014-present) Commander V Corps (May 2013-June 2014) Chief of the KPA General Staff (July 2012-May 2013)
Im Chol Ung, DPRK Vice Premier (2014-present) (bsk)
Mr. Jang Song Taek (deceased) NDC Vice Chairman; Director CCKWP Administration Department; KJI brother-in-law (bsk)
Jang Yong Chol, DPRK Ambassador to Malaysia (2011-2013)
Ji Jae Ryong, DPRK Ambassador to China (PRC) (bsk)
Jo Chun Ryong, Chairman of the Second Economic Committee; NDC Member (2014-2016) (bsk)
Gen. Jo Kyong Chol, Director of the Military Security Command (2009-present), Member of the WPK Central Committee (2010-present), Member of the WPK Central Military Commission (2013-2016) (bsk)
VMAR Jo Myong-rok (deceased) NDC Vice Chairman (1998-2010), Director, MPAF GPD (1995-2010), Member, CMC (1980-2010), Member, CC KWP Political Bureau Presidium (2010) (bsk)
Jo Yon Jun, Chairman of the WPK Inspection Commission [Control Commission] (2017-present), Senior Deputy Director of the WPK Organization Guidance Department (2012-present), Alternate Member of the WPK Political Bureau (2012-present)
Mr. Jon Hui Jong, Director, NDC Foreign Affairs Department (2007-2011) (c)
Jon Il Chun, Deputy Director of the KWP Finance and Accounting Department (Office #39) former chief officer, DPRK Taepung International Investment Group and State Development Bank (0n behalf of the NDC) (bsk)
Mr. Jon Pyong Ho, (deceased) Director Cabinet Political Bureau and Chief Secretary Party Committee (2010-2012) (bsk); Member, NDC (1990-2011); CC KWP Secretary of Military Industry (1986-2010)
Jon Sung Hun, Chairman of the North Hamgyo'ng WPK Provincial Committee (2014-2017); DPRK Vice Premier (2003-2012); Minister of Metal Industry (2011-2012; 1998-2003)
Gen. Jong Ho Gyun,  KPA Artillery Commander (2007-2012); WPK Central Committee Member (2010-2016) WPK Central Military Commission Member (2010-2016) (bsk)
Jong Kyong Hui, Senior DPRK Intelligence Manager (1960's-1990's)
Gen. Jong Myong Do Commanding Officer, KPA Navy (Naval Command) 2007-2012; Member, CMC, 2010-2012 (bsk)
Ju Kyu Chang, Alternate (candidate) Member, WPK Central Committee (2016-present); former WPK Munitions Industry Department Director (2010-2014) Member of the National Defense Commission (2009-2016), Member of the WPK Central Military Comission (2010-2016), Alternate Member, WPK Political Bureau (2010-2016), Senior Deputy Director of the WPK Munitions Industry Department (2000-2010); former 1st Vice Chairman of the Second Economy Commission (Second Economic Committee) [1970s and 1990s], former President of the Second Academy of Natural Sciences (1980s) (bsk)
Gen. Ju Sang Song, Director, County People's Security Branch Office (2012-present); NDC Member (2009-2011) and Minister of People's Security (2004-2011) Political Bureau Member (2010-2011)
Col. Gen. Kang Tong Yun, Deputy (Vice) Director, CC KWP Organization and Guidance Department (2007-present) (bsk)
Kang Kwan Chu Director, NDC External Liaison Department (2009-2012) (c)
Kang Sang Chun, Deputy Director, Kim Jong Un's Personal Secretariat (2013-present) Director, Kim Jong Il's Personal Secretariat (2001-2011) (bsk)
Kang Sok Ju, (deceased) KWP Secretary and Director of the International Affairs Department (2014-2016), DPRK Vice Premier (2010-2014); Councilor, National Defense Commission (2006-2016) 1st Vice Minister of Foreign Affairs (1987-2010) (bsk)
Kang Yang Mo, Chairman of the Namp'o City WPK Committee (2009-present) (bsk)
Kang Yong Su, Minister of Urban Management (2013-present) (bsk)
Kim Chang Son, Deputy Director, Personal Secretariat (c)
MAR Kim Chol Man former NDC Member, former CMC Member, former Chairman, Second Economic Committee (c)
Kim Chon Gyun, President of the DPRK Central Bank (2014-) (bsk)
Kim Chung Il, Chief, Office of Secretaries and Deputy Director, Personal Secretariat (1992-2010) (c)
Kim Hi Taek, Ryanggang WPK Provincial Committee Chief Secretary (2009-2013) (c)
Col. Gen. Kim Hyong Ryong, Vice Minister of the People's Armed Forces (2017-); former commanding officer II Corps, IX Corps, 815th Mechanized Corps; former General Staff Communication Bureau (bsk)
VMAR Kim Il Chol, former NDC Member and Vice Chairman, former Minister of the People's Armed Forces (bsk)
Kim Jae Ryong, Chairman of the Jagang WPK Provincial Committee (2015-present) (bsk)
VMar Kim Jong Gak, State Affairs Commission Member (2018-present), Member of the WPK Political Bureau (2018-present), Member of the 7th WPK Central Military Commission (2018-present), Director of the KPA General Political Department (bureau) (2018) Dean, Kim Il Sung Military University Graduate School (2012-2017); NDC Member (2009-2013); CMC Member (2010-2013) Minister of the People's Armed Forces (April 2012 to October 2012)(bsk)
Kim Jong Il  (c)
Kim Jong Nam,(deceased) KJI son and Personal Secretariat Aide (bskbp)
Kim Jong Sik, WPK Machine Building Industry Department Deputy Director (2014-present) (bsk)
Col. Gen. Kim Kang Hwan, former member, WPK Central Military Commission (1980-2010) (bsk)
Kim Ki Nam WPK Vice Chairman/Secretary and Director of Propaganda and Agitation (Publicity and Information) (2003-2017); Member, WPK Political Bureau (2010-2017) (c)
Kim Ki Ryong, (deceased) Editor in Chief, Rodong Sinmun (bsk) (2010-2013)

Gen. Kim Ki Son, Former Deputy Director for Organization, KPA General Political Department (1993-2000s) (bsk)
Kim Kuk Tae Chairman, WPK Control Commission (2010-2014) deceased
Kim Kwang Chol, Minister of Post and Telecommunications (2015-) (bsk)
Kim Kye Gwan, Senior (1st) Vice Minister, Ministry of Foreign Affairs (bsk)
Gen. Kim Kyok Sik, (deceased) Vice Chief of the KPA General Staff (2013-2015) former Chief of the KPA General Staff (2013; 2007-2009) former commander IV Army Corps (2009-2011), Vice Minister of the People's Armed Forces (2011-2012) Minister of the People's Armed Forces (November 2012-May 2013)  (bsk)
Kim Kyong Hui WPK Central Committee Secretary (2012-2016) and KJI's sister (bsk)
Kim Kyong Ok, Senior Deputy (1st Vice) Director, KWP Organization Guidance Department; Member, CMC (bsk)
Kim Myong Gil, SAC Special Representative for US Policy (2019-present); DPRK Ambassador to Vietnam (2015-2019)
Gen. Kim Myong Guk (deceased) Former Chief of the KPA General Staff Operations Bureau (1994-1996; 2007-2012) former commanding officer, 108th Mechanized Corps (1996-2007) (bsk)
Col. Gen. Kim Myong Nam, Commander of the Pyongyang Defense Command (2013-present), Member of the WPK Central Committee (2016-present) (bsk)
Kim Nung O, Chairman of the North P'yo'ngan WPK Provincial Committee (2015-present), Alternate Member of the WPK Political Bureau (2016-present) (bsk)
Kim Ok, KJI's personal secretary and common-law wife
Kim Pyong Hae WPK Vice Chairman (2016-present) and Director of the WPK Cadres' Affairs Department (2010-present); WPK Secretary (2010-2016)' Chief Secretary (Chairman) of the North P'yo'ngan WPK Provincial Committee (  (c)
Kim Pyong Il, DPRK Ambassador to the Czech Republic (2014-present) (c)
Kim Pyong Phal Former Chairman, Central Committee GFTUK (c)
Gen. Kim Pyong Ryul, President, DPRK Central Court (1998-2013)
Gen. Kim Rak Gyom, Commander, KPA Strategic Force (2012-present) (bsk)
Kim Rak Hui, (deceased)Vice Premier (2010-2012)
Col. Gen. Kim Song Chol, Commander of the 105th Armored Corps (2007-present), Member of the WPK Central Committee (2010-present) (bsk)
Col. Gen.Kim Song Dok, Vice Command and Political Committee Member of the Guard Command (2004-present), Member of the WPK Central Committee (2010-present) (bsk)
Gen. Kim Su Gil, Director KPA General Political Department (2018-present), Member, WPK Central Military Commission (2018-present), Chairman of the Pyongyang WPK City Committee (2014-2018), Vice Minister of the People's Armed Forces (2008-present), Alternate Member, WPK Political Bureau (2016-present) (bsk)
Kim Tok Hun, DPRK Premier (2020-present); Presidium Member, WPK Political Bureau (2020-present); WPK Vice Chairman (2019-2020); WPK Cadres' Affairs Department Director (2019-2020); DPRK Vice Premier (2014-2019)
Kim Tong Un (c) Deputy Director, Kim Jong Il's Personal Secretariat (1988-2011)
Gen. Kim Tu-nam (bsk) (deceased) former CMC Member, former President Kumsusan Memorial Hall
Gen. Kim Won Hong, Deputy Director of the KPA General Political Department (2017-2018) Minister of State Security (2012-2017), Member WPK Central Military Commission (2010-2018), WPK Political Bureau Member (2012-present); Member, CMC (2010-2018); Member, State Affairs Commission (2016-present); Member, NDC (2012-2016); Director of the Military Security Command (2004-2010) (bsk)
Kim Yang Gon (deceased) WPK Secretary for and Director of the United Front Department (2007-2015); Member and Alternate Member, WPK Political Bureau (2010-2015) [c]
Kim Yo Jong, Kim Jong Un's sister and Deputy Director WPK Central Committee [bsk]
Col. Gen. Kim Yong Bok, Commander of KPA Large Combined Unit #630 (2017-present); Commander of XI Army Corps (2015-2017; possibly concurrent to current command); Member, WPK Central Committee (2016-present) (bsk)
Gen. Kim Yong Chol, WPK Vice Chairman and Director of Intelligence and South Korean Affairs (2016-present); Member, WPK Political Bureau (2016-present); Member, CMC (2010-present); former Chief of the Reconnaissance General Bureau and Vice Chief of the KPA General Staff (2008-2015) (bsk)
MAR Kim Yong Chun, NDC Vice Chairman (2007-2013); former Minister of the People's Armed Forces; Former Chief of the KPA General Staff; former Director of the WPK Civil Defense Department; Member, Political Bureau (2010-2014) (bsk)
Kim Yong Jin, DPRK Vice Premier (2012-present) (bsk)
Kim Yong Il, DPRK Premier 2007-2010 (bsk)
Kim Yong Il, WPK Secretary and Director of International Affairs (2010-2014) [C]
Kim Yong Ju, Honorary Vice President, SPA Presidium; Kim Il Sung's younger brother; former Director, WPK Organization Guidance Department [c]
Kim Yong Nam, President, Supreme People's Assembly (c)
Kim Yong Su, Director of the WPK Finance and Accounting Department (2017-present)
Kung Sok Ung, Vice Minister, Ministry of Foreign Affairs (c)
Kwon Song Ho, Minister of State Construction Control (2013-present) (bsk)
Kwak Pom Ki WPK Vice Chairman and Director of Planning and Finance (2016-present); Member, WPK Political Bureau (2013-present); former DPRK Vice Premier; former Chairman, South Hamgyo'ng WPK Provincial Committee (bsk)
Mun Kyong Dok, WPK Secretary and Chief Secretary, Pyongyang KWP City Committee (2010-2013); Alternate Member, WPK Political Bureau (2010-2013) (bsk)
Gen. O Kuk Ryol, NDC Vice Chairman (Reconnaissance General Bureau) (2009-2016); Member, WPK Political Bureau (2013-2016) (bsk)
O Su Yong, WPK Vice Chairman and Director of the WPK Economic Affairs Department (2016-); Chairman, North Hamgyo'ng WPK Provincial Committee (2010-2014) [bsk]
Pae Hak, Minister of Oil Industry (2013-present) (bsk)
Mr. Paek Se Bong, NDC Member (2003-2013);  Chair of the Second Economic Committee (2003-2013) (bsk)
Gen. Pak Jae Gyong  (retired) Vice Minister for External Affairs, MPAF (2007-2013); former  head of the KPA General Propaganda Department
Col. Gen. Pak Jong Chon, Director of the KPA Artillery Command (2016-present; 2012-2014), Vice Chief of the KPA General Staff (2014-present), WPK Central Committee Member (2016-present)
Pak Jong Nam, Chairman of the Kangwo'n WPK Provincial Committee (2013-present) (bsk)
VMAR Pak Ki So (deceased) Commander, Pyongyang Defense Command 1992-2003 (bsk)
Mr. Pak Myong Chol,President DPRK Central Court (2014-2016); former Minister of Physical Culture and Sports; former NDC Councilor
Pak Myong Sun, deputy director, WPK Light Industry Department (2013-present) (bsk)
Pak Nam Gi (deceased) WPK Planning and Finance Department Director 2005-2010 (bsk)
Pak Pong Ju, DPRK Cabinet Premier (2013-present; and 2003-2007)(bsk)
Pak Thae Dok, WPK Vice Chairman for General Affairs (2017-present), Alternate Member of the WPK Political Bureau (2017-present), Chairman of the North Hwanghae WPK Provincial Committee (2010-2017), Secretary Anju City WPK Committee (2006-2010) (bsk)
Pak Thae Song, WPK Vice Chairman (2017-present), Chairman of the South P'yo'ngan WPK Provincial Committee (2014-2017), WPK Organization Guidance Department Deputy Director (2011-2014), WPK Political Bureau Member (2017-present), WPK Political Bureau Alternate Member (2016-2017) (bsk)
Pak To Chun, Member, National Defense Commission (2011-2014); WPK Secretary for Munitions Industry (2010-2015) Chairman Chagang WPK Provincial Committee (2005-2010) (bsk)
Gen. Pak Yong Sik, Minister of the People's Armed Forces (2015-present), Member of the WPK Political Bureau (2016-present), Member of the DPRK State Affairs Commission (2016-present), Member of the WPK Central Military Commission (2016-present), Deputy Director of the KPA General Political Department (2014-2015)
Gen. Pyon In Son, Director of the KPA General Staff Operations Bureau (2013-2014) (bak)
Ri Chol [a.k.a. Ri Su Yong] WPK Vice Chairman for and Director of International Affairs (2016-present); Member, WPK Political Bureau (2016-present); Foreign Minister (2014-2016); DPRK Central Broadcasting Committee; Vice Chairman, Committee on Investment and Joint Ventures (2010-2014); DPRK Ambassador to the UN Mission Geneva (1988-2010) (bsk)
Ri Chol Man, WPK Agriculture Department Director (2016-), DPRK Vice Premier (2012-2015)
Ri Chun Hui, DPRK Media Personality and KCTV News Anchor (bsk)
Ri Hyok Chol, former DPRK Ambassador to Egypt [C]
Ri Il Hwan, WPK Workers' and Social Organizations Department [2014-present] (bsk)
Ri Jae Il, Senior Deputy Director, WPK Propaganda and Agitation Department (2004-present); KJI Personal Secretariat (bsk)
Ri Je Gang (deceased), Senior Deputy Director, CC KWP Organization Guidance Department 2003-2010 (bsk)
Ri Kil Song, Director, Central Public Prosecutor's Office (2003-2011) [c]
Ri Kwang Gun, Deputy Director, WPK United Front Department (bsk)
Ri Man Gon, Senior Deputy Director, WPK Organization Guidance Department (2017-present) Member of the State Affairs Commission (2016-present), WPK Vice Chairman and Director of the WPK Munitions Industry Department (2016-2017); Chairman, North P'yo'ngan WPK Provincial Committee (2010-2015) (bsk
Ri Mu Yong, DPRK Vice Premier (2011-present) Minister of Chemical Industry (2003-2017) (bsk)
VMAR Ri Myong Su, Chief of the KPA General Staff (2016-present); Member, WPK Political Bureau (2012-present) Minister of People's Security (2011-2013); NDC Member (2011-2013) (bsk)
Gen. Ri Pyong Chol, Senior Deputy Director, WPK Central Committee (2014-present) and Alternate Member of the WPK Political Bureau (2016-present); Commander, KPA Air and Anti-Air Force (2007-2014); Member, CMC (2017-present; 2010-2016) (bsk)
Ri Pyong Gap, DPRK Ambassador to the Czech Republic and Slovakia (2004-2011) (bsk)
Col. Gen. Ri Pyong Sam, Docent, War Revolutionary Museum (2016-present); Director, Political Bureau, Ministry of Public Security (2007-2014); Alternate Member, WPK Political Bureau (2012-2014) (bsk)
Ri Sang Won, Chairman of the Yanggang WPK Provincial Committee (2013-present)
Ri Sol Ju, Wife Of Kim Jong Un
Col. Gen. Ri Song Guk, IV Army Corps Commander (2013-present), Member of the WPK Central Committee (2016-present)
Ri Tae Nam, [deceased] Vice Premier [2010-2011]; Alternate Member, WPK Political Bureau (2010-2013)  [c]
Ri Tuk Nam, Vice Chairman, WPK Control Commission (2010-present) [c]
VMAR RI Tu Ik (deceased), Member, CC KWP (1970-2002); Member, CMC (1980-2002) (bsk)
MAR Ri Ul Sol  (deceased) former Commanding Officer, Guard Command; former member, CMC [c]
Gen. Ri Yong Gil, Director of the KPA General Staff Operations Bureau and 1st Vice Chief of the KPA General Staff (2016-present)Chief of the KPA General Staff (2013-2016); Alternate Member, WPK Political Bureau (2016-present) (bsk)
VMAR Ri Yong Ho, Chief of the General Staff (2009-2012); Vice Chairman of the CMC (2010-2012) (bsk)
Ri Yong Ho, Minister of Foreign Affairs; Member, WPK Political Bureau (2016-present); Member, State Affairs Commission (2016-present) (bsk)
VMAR Ri Yong Mu, NDC Vice Chairman (1998-2016); Member, WPK Political Bureau (2010-2016); KJI's cousin (bsk)
Rim Kyong Man, Chairman of the Raso'n WPK Provincial Committee (2010-present); Minister of Foreign Trade (2004-2008) (bsk)
Ro Tu Chol, Vice Premier and Chairman, State Planning Commission; Member, WPK Political Bureau [c]
Ryang Ui Gyong, Chairman of the State Price Control Commission (2011-present) (bsk)
Gen. So Hong Chan, 1st Vice Minister of the People's Armed Forces and Director of the KPA General Logistics Department (2013-present), Member of the WPK Central Military Commission (2016-present)
Col. Gen. Son Chol Ju, deputy director of the KPA General Political Department for Organizational Affairs (2017-present); political director of the KPA Air and Anti-Air Forces (2013-2017); Member, 7th WPK Central Committee (2016-present); deputy director of the KPA General Political Department for Publicity and Information (2007-2010)
Thae Jong Su, WPK Vice Chairman and Director of the WPK Munitions Industries Department (2017-present); Member, WPK Political Bureau (2017-present); WPK Secretary and Director of the WPK General Affairs Department (2010-2012) Chief Secretary, South Hamgyo'ng KWP Committee (2010; 2012-2016); Alternate Member, WPK Political Bureau (2010-2016); DPRK Vice Premier (2007-2010) (bsk)
Gen. U Tong Chuk, Senior (1st) Vice Minister of State Security (bsk)
Gen. Yun Jong Rin, Commander of the Guard Command (2003-present); Member, CMC (2010-2016) (bsk)