Central Report Meeting Marks DPRK 70th Birhtday
A central report meeting marking the 70th anniversary of the foundation of the DPRK took place at May Day Stadium in Pyongyang on Sunday (September 9). Report meetings were also held in provincial capitals, cities and county seats throughout the country.
Kim Jong Un (Kim Cho'ng-u'n) presided over the meeting.  On the platform with him were members of the Workers' Party of Korea [WPK] Political Bureau Presidium: Supreme People's Assembly [SPA] Presidium President Kim Yong Nam, WPK Vice Chairman and State Affairs Commission Vice Chairman Choe Ryong Hae (Ch'oe Ryong-hae) and DPRK Premier and State Affairs Commission Vice Chairman Pak Pong Ju (Pak Pong-chu).  Also seated on the platform were WPK Vice Chairmen and Members of the WPK Executive Policy Bureau, Members and Alternate (candidate) Members of the Political Bureau, Provincial and City WPK Committee Chairmen, DPRK Vice Premiers, senior officials of the Ministry of People's Security and Ministry of State Security, leading members of the Korean People's Army [KPA] High Command, leading officials of Workers' and Social Organizations and foreign VIPs representing overseas Korean organizations.
Also in attendance were senior officials of the WPK Central Committee and KPA, semi-retired senior officials, DPRK Cabinet Ministers and Commission Chairs, cadets of Mangyo'ngdae and Kang Pan Sok Revolutionary Schools, KPA and Korean People's Internal Security Forces' officers and service members, chief functionaries of education, cultural and research institutions, managers and cadres of industrial, agricultural and commercial institutions, various merited and titled DPRK citizens, Pyongyangites and the head of the Pyongyang Mission of the Anti-Imperialist National Democratic Front.  Kim Jong Un Un was accompanied to the event by Kim Yo Jong (Kim Yo'-cho'ng) and General Jo Kyong Chol (Cho Kyo'ng-ch'o'l), the director of the Military Security Command, who was directing Jong Un's close security escorts for Foundation Day events.
Kim Yong Nam delivered the report.
With Kim Jong Un's authorization, Kim Yong Nam "warmly congratulated all the service personnel and people in the country on the occasion of the 70th birthday of the DPRK, paying tribute to the anti-Japanese revolutionary forerunners, KPA soldiers and other patriotic martyrs who laid down their precious lives for the cause for achieving the freedom and independence of the country and the well-being of the people" and he also "extended his greetings to the fellow countrymen in the south and overseas compatriots, welcoming the foreign friends attending the meeting."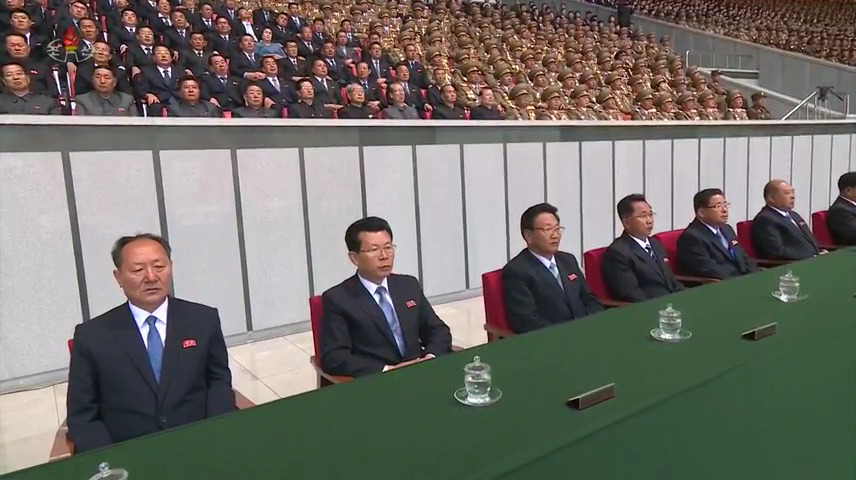 He said that the "foundation of the DPRK by President Kim Il Sung (Kim Il-so'ng) on Sept. 9, Chuch'e 37 (1948) was a great historic event as he successfully realized the Korean people's long-cherished desire for a genuine government of working people" and that "with the founding of the DPRK, the Korean nation was born again as a dignified and powerful people capable of shaping its destiny by itself and that the country, once eclipsed on the world map, emerged as a fully-fledged independent and sovereign state on the international arena."
Kim Yong Nam noted that "over the past seven decades, the DPRK has advanced dynamically towards the goal of building itself into a powerful socialist country" and he "underscored the fact that, by dint of their outstanding wisdom and through indefatigable guidance, President Kim Il Sung and Chairman Kim Jong Il (Kim Cho'ng-il) formulated the Chuch'e idea as the guiding ideology for the state and developed it into an advantageous and powerful socialist country, while finding perfect solutions to all the problems arising in the construction of the state and its activities."
Kim also "underlined that the DPRK boasts its history resplendent with victory as it has advanced straight ahead without making any slight mistake in formulating its lines and without experiencing any political upheaval, that it is a history of dramatic change as the country has achieved the greatest transformation under the worst-ever conditions on the strength of self-reliance and self-development, and that it can be defined as a history of creation since it has set an example in the present era for other nations to follow in building a people-centered government."
Kim Yong Nam emphasized that "herein lies the greatness of the DPRK's 70 year-long history" and said that "in the 70-year-long course full of ups and downs, the country has consistently adhered to the principle of national independence and the idea of state-building based on love for the people, just as reflected in its national flag, adding that this is the source of pride for the state and the people."
Kim stressed that the DPRK "dynamically struggled for the reunification of the country under the banner of national independence and great national unity, and it has also made a positive contribution to implementing the cause of global independence, maintaining its foreign policy principles — independence, peace and friendship."
He stated that "as the land of eternal Sun, the DPRK is the greatest patriotic legacy bequeathed to the coming generations by the President and the Chairman, father of the nation and peerless patriot, who had devoted all their lives to building up the country" and noted that the "DPRK has greeted a golden age in building a powerful socialist country under the guidance of Supreme Leader Kim Jong Un."
Kim Yong Nam said that the "Supreme Leader has wisely led the Korean people to preserve the revolutionary nature of their country as a Chuch'e-oriented socialist state and successfully realize the great leaders' patriotic desire for building a powerful country" and he "appealed to all the service personnel and people to death-defyingly defend the Central Committee of the Party headed by Kim Jong Un and strengthen the country's most powerful weapon — single-minded unity and politico-ideological might."
He said that the DPRK government "will as ever strive hard for improvement of north-south relations and national reunification, eternal peace and stability in the Korean peninsula and building of a new just world."