Rim Kyong Man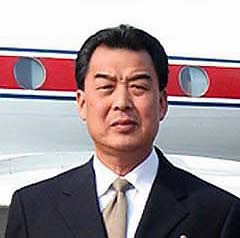 updated February 27, 2018
Rim Kyong Man [Rim Kyo'ng-man] is the Chairman of the Raso'n Workers' Party of Korea [WPK] City Committee and a Member of the WPK Central Committee. A career foreign trade and external relations official, who served as the Minister of Foreign Trade from 2004 to 2008, Rim is also a deputy to
the Supreme People's Assembly.
Rim began his career at the Ministry of Foreign Trade (External Economic Affairs) during the mid-1970s. From 1984 to 1988 he served as a trade counsel at the DPRK Embassy in Indonesia. Rim returned to the DPRK and in 1989 served as the interim head of the Asia-Pacific Bureau in the Ministry of Foreign Trade. During the 1990s he served as trade counsel at the DPRK Embassy in Malaysia.
From 1999 to 2001 Rim Kyong Man worked as head of the International Organizations bureau in the Ministry of Foreign Trade. In 2001 he was appointed as the DPRK trade representative in Dalian, PRC, a position he held for under three years. Rim was appointed Minister of Foreign Trade in April 2004.
One of Rim's first public interactions as minister occurred at the Russian Embassy in the DPRK in June 2004 when he attended a reception and delivered a speech to mark Russia's national day. In March 2005, Rim was part of a delegation that traveled to China with then-Premier Pak Pong Ju. On March 22, 2005, as the DPRK Government representative and proxy, Rim Kyong Man signed protocols on environmental protection and investments with the Chinese government. On May 23, 2005, Rim met
with the former Speaker of the Chamber of Deputies, the head of the Czech Republic's lower house of Parliament.
During June 2005, Rim Kyong Man led a DPRK delegation on a state visit to Yemen where Rim held a variety of meetings with senior government officials and and engaged in discussion on technology and IT
cooperation, mineral and materials trade and cultural and academic exchanged. On June 14, 2005 Rim signed agreements with the Yemeni government on economic cooperation and technology exchanges. Rim and DPRK delegation also visited Kenya, Mali, Uganda and Guinea during its
three-week sojourn.
Rim Kyong Man attended Kim Jong Il's meeting with former Chinese President Hu Jintao at the Paekhwawon State Guest House in Pyongyang on the afternoon of October 28, 2005, during the latter's official state visit to the DPRK. Following the meeting, on behalf of the DPRK Government and with KJI and President Hu in attendance, Rim signed an agreement on economic and technical cooperation between the two countries. Three days later Rim departed the DPRK leading a delegation on a a visit to Cuba, Venezuela and Brazil. On November 4, Rim represented the DPRK and signed the protocols on the 24th session of the DPRK-Cuba Intergovernmental Committee for Economic, Scientific and Technical Consultation. On December 5, 2005, Rim met with then-St. Petersburg governor (and current Federation Council Chairwoman) Valentina Matviyenko and was the ranking DPRK official to attend a photo exhibition on the Russian city held at the People's Palace of Culture.
On May 13 and May 14, 2006, Rim represented the DPRK at the fourth session of the DPRK-Syria Joint Economic Committee and signed off on the according protocol. In July 2006 he signed a protocol with
Malaysia concerning the DPRK importation of palm oil. During October 2006, Rim attended the 25th session of the DPRK-Cuba Intergovernmental Committee for Economic, Scientific and Technical Consultation held in Pyongyang. Rim met with Iran's then-deputy foreign Minister Mehdi Safari during Safari's visit to the DPRK in January 2007 "on ways of expanding bilteral economic relations." In March 2007, RIm led a DPRK delegation to Russia and represented the country at a meeting of the Russia-DPRK Intergovernment Commission. Rim met with Konstantin Pulikovsky and discussed, among other issues, energy exports, timber, mining and agriculture.
Rim Kyong Man visited Iran and Syria during at the head of a DPRK delegation during August 2007. In Iran, Rim met with Iran's Commerce Minister Masoud Mir Kazemi to discuss Iranian investment in the DPRK, DPRK exports to Iran and holding working level meetings of experts from the two countries. During his meeting with the chairman of Iran's Chamber of Commerce, Rim described Iran as "a strategic partner" and called for the expansion of technology exchanges along with criticizing the "two countries' chambers of congress for their lack of information and scarce relations" and "hoped that the two countries' economic exchanges would increase."
Rim also met with the Iranian Oil Minister about the expansion of energy cooperation, including the DPRK refining a set amount of Iranian petroleum and DPRK engineers visiting Iran to study refinery
technology. According to some accounts, attending some of these meetings were trade representatives of the Islamic Revolutionary Guards who asked the DPRK export improved models of submarines the
DPRK previously exported as repayment for foreign debt. Rim's visit to ended with him meeting Iran's Vice President Parviz Davoodi in which he said that Iran's relation and cooperation with the DPRK
should be expanded. Rim met with Syria's former Prime Minister Mohammed Otri and on August 14, 2007 attended the 5th session of the DPRK-Syria Joint Economic Committee.
During October 28 to November 6, 2007 Rim was part of a delegation led by former DPRK Premier Kim Yong Il that visited Vietnam, Malaysia, Cambodia and Laos. On November 5, Rim met with his Lao counterpart on the sidelines of the delegation's visit to Laos. Rim led a DPRK delegation to Cuba to participate in the 26th session of the DPRK-Cuba Intergovernmental Committee for Economic, Scientific and Technical Consultation. During his visit to Cuba, Rim agreed to continue the DPRK's export of railway component parts, clothing and chemicals. Rim also visited a medical school, a cooperative sugar farm, a training institution for oil workers and historical sites.
Rim Kyong Man was removed from office Minister of Foreign Trade in March 2008. On December 16, 2009 late DPRK leader Kim Jong Il visited Raso'n Economic and Trade Zone (Rajin-So'nbong), a special
administrative region, where he remarked that "foreign trade is an important work that should be endlessly expanded and developed by a state of working class people as it an economic lever to harden the foundation of the national economy…as well as the first process in developing friendly and cooperative relations with countries." KJI also said that "in order to develop foreign trade it is necessary to correctly work out an export plan and thoroughly implement the policy of unified trade and, at the same time, the party organizations and administrative officials should regularly learn about and grasp how the plans for the production of export goods are fulfilled, unravel knotty problems in time and effectively conduct the organizational and political work to advance export plans." A month later KJI replaced the Raso'n chief party secretary Kim Hyon Ju with Rim Kyong Man.
Rim was elected a full member of the WPK Central Committee during the 3rd Party Conference on September 28, 2010. In June 2011, Rim Kyong Man spoke at a ceremony formally opening a series of joint projects in Raso'n. Rim has been instrumental, in cooperation with senior officials of the Raso'n City People's Committee in the DPRK's attempts to revitalize Raso'n and participated in formulating investment and trade laws, increasing the DPRK domestic population in the special administrative region and number of infrastructure improvements in the roads, railway and port. Other initiatives in Raso'n with which Rim Kyong Man has been involved is boosting tourism to the zone and
holding an annual international trade fair. Rim was elected a deputy to the Supreme People's Assembly in March 2014. He was elected to the WPK Central Committee in May 2016.
Rim Kyong Man was born in 1947. He has had been active in the DPRK's sports world as chairman of the DPRK Boxing Association and a brief stint as Chairman of the Korean Football Association from January
through September 2006.
Rim Kyong Man

Chairman of the Raso'n WPK City Committee

Member, WPK Central Committee

Deputy, Supreme People's Assembly

1984: Trade attache, DPRK Embassy in Indonesia

1989: Director, Asia-Pacific Bureau, Ministry of Foreign Trade

1991: Trade attache, DPRK Embassy in Malaysia

1999: Director, International Organizations Bureau, Ministry of Foreign Trade

2001: DPRK Trade Representative, Dalian, PRC

2004: appointed, Minister of Foreign Trade

2006: (January) appointed, Chairman, Korea Football Association

(September) recalled, Chairman, Korea Football Association

2010: (January) appointed, Chief Secretary Naso'n WPK City Committee

(April) Member, Kim Jung Rin Funeral Committee

(September) Elected, Member, 6th WPK Central Committee

(November) Member, Jo Myong Rok Funeral Committee

2011: Member, Kim Jong Il Funeral Committee

2013: Member, Kim Kuk Tae Funeral Committee

2014: (March) Elected, deputy, 13th Supreme People's Assembly

(July) Member, Jon Pyong Ho Funeral Committee

2015: (November) Member, Ri Ul Sol Funeral Committee

(December) Member, Kim Yang Gon Funeral Committee

2016: (May) Elected, Member, 7th WPK Central Committee

(May) Member, Kang Sok Ju Funeral Committee
"North Korea This Week No. 289," Yonhap News Agency, April 15, 2004; "N. Korean Trade Minister Now Heads Special Economic Zone," Chosun Ilbo, February 2010; "N, Korea Replaces 12 Ministerial Officials Since Last Year," Yonhap News Agency, April 9, 2004; "North Korean Minister Talks About Bilateral Ties with Russia at Embassy Reception," ITAR-TASS (in Russian), June 10, 2004; "Meeting of Premiers of DPRK Cabinet, PRC State Council," Korean Central Broadcasting Station (in
Korean), March 22, 2005; "Agreements on Cooperation Signed Between DPRK and Chinese Governments," Korean Central News Agency, March 23, 2005; "CTK Schedule of Events for the Week of May 23, 2005," CTK, May 23, 2005; "DPRK Premier Meets Speaker of the Chamber of Deputies,"
Korean Central News Agency, May 23, 2005; "DPRK Government Delegation Leaves for African Countries," Korean Central News Agency, June 6, 2005; "Yemen, North Korea Sign Agreement To Enhance Economic Cooperation, Saba News Agency, June 14, 2005; "North Korean Trade Minister in Uganda," Radio Uganda, June 16, 2005; "Ugandan president in talks with visiting North Korean minister," Radio Uganda, June 17, 2005; "Ugandan minister, visiting North Korean counterpart discuss
medical aid," Radio Uganda, June 17, 2005; "Visiting North Korean Minister Offers Medical Assistance, Expertise," Radio Uganda, June 17,2005 (as cited in July 4, 2005 in Sub-Saharan Africa Health Report
16-30 June 2005); "Memorandum of Understanding Signed," Korean Central News Agency, June 28, 2005; "Trade Between Primorye, North Korea Quadruples in Four Years," ITAR-TASS, August 22, 2005; "Talks Held Between Leaders of DPRK, China," Korean Central Broadcasting Station (in Korean), October 28, 2005; "Hu Jintao Holds Talks with Kim Jong Il" by Chen Hegao, Luo Hui and Ji Xinlong, Xinhua Domestic Service (in Chinese), October 28, 2005; "An Agreement on economic and technological cooperation between the DPRK and PRC was signed," Korean Central Broadcasting Station (in Korean), October 28, 2005; "Agreement on Economic and Technological Cooperation Signed Between DPRK and
China," Korean Central News Agency, October 28, 2005; "DPRK Government Delegation Leaves for Cuba, Venezuela and Brazil," Korean Central News Agency, October 31, 2005; "Protocols Between DPRK, Cuba Inked," Korean Central News Agency, November 6, 2005; "Russian Mayor Meets N. Korea's Trade Minister," Yonhap News Agency, December 5, 2005; "Photo Exhibition Introducing Sankt-Petersburg Held," Korean Central News Agency, December 5, 2005; "DPRK-Syria Joint Economic Committee Meets," Korean Central News Agency May 14, 2006; "No Politics in Malaysia's Supply of Palm Oil to North Korea," Bernama, July 13, 2006; "Protocols Signed Between DPRK, Cuba," Korean Central News Agency, October 13, 2005; "Iran Deputy FM Meets North Korean Number Two Official," IRNA, January 19, 2007; "Russia-N Korea Intergovernmental Commission to Meet March 23," ITAR TASS, March 20, 2007; "Iran, North Korea to Boost Economic Ties," Mehr News Agency, August 7, 2007; "Iran, N. Korea Stress Economic Ties," Fars News Agency, August 8, 2007; "Iran, N. Korea Eye Energy Cooperation," Fars News Agency, August 9, 2007; "Iran's First Vice President Receives DPRK Economic Delegation," Korean Central Broadcasting Station (in Korean), August 10, 2007; "Vice President Meets with Visiting DPRK Foreign Trade Minister," Hezbollah (in Persian), August 12, 2007; "Syrian PM Meets with DPRK Government Delegation," Korean Central Broadcasting Station (in Korean), August 15, 2007; "Protocol Inked Between DPRK, Syria," Korean Central News News Agency August 17, 2007; "DPRK Cabinet Premier Meets with Vietnamese President," Korean Central Broadcasting Station (in Korean), October 29, 2007; "Plan for Culture, Science Exchange Between
Governments of DPRK, Vietnam Inked," Korean Central News Agency, October 27, 2007; "DPRK Cabinet Premier Arrives in Malaysia," Korean Central Broadcasting Station (in Korean), October 31, 2007; "DPRK Premier Arrives in Cambodia, Completes Malaysia Visit," Korean Central Broadcasting Station (in Korean), November 1, 2007; "DPRK Cabinet Premier Holds Talks with Cambodian Prime Minister," Korean Central Broadcasting Station (in Korean), November 1, 2007; "Talks Between the DPRK Cabinet Premier and Premier of the Lao People's Democratic Republic," Korean Central Broadcasting Station (in Korean), November 5, 2007; "DPRK, Laos Hold Inter-sector Talks," Korean Central Broadcasting Station (in Korean), November 5, 2007; "Cuba-DPRK 26th Bilateral Commission Meeting Strengthens Ties," ACN, November 27, 2007; "Cuba, DPRK Economic Cooperation to Deepen," Foreign Minister of the Republic of Cuba (in Spanish) November 28, 2007; "Submarine to Iran? North Korea Is Negotiating to Repay Hundreds of Millions of Dollars," by Takashi Arimoto, Sankei Shimbun (in Japanese), January 18, 2008; "More Provincial and City Meetings for WPK Conference," Korean Central News Agency, September 4, 2010; "Members, Alternate Members, WPK CC," Korean Central News Agency, September 28, 2010; "DPRK, PRC Hold Ground-breaking for Projects in Islands, Naso'n," Korean Central News Agency, June 9, 2011; "Report of the Central Election Committee on the Election Results of deputies to the 13th Supreme People's Assembly," Korean Central News Agency (in Korean),
March 11, 2014; "Panel Committees of SPA of DPRK Elected," Korean Central News Agency, April 9, 2014; "State Funeral Committee for Ri Ul Sol," Rodong Sinmun (in Korean), November 9, 2015; "State Funeral Committee for Kim Yang Gon," Rodong Sinmun (in Korean), December 30,
2015; "Fourth and Final Day of the 7th Party Congress," NK Leadership Watch, May 10, 2016; "WPK Central Committee and WPK Central Auditing Commission Meet," NK Leadership Watch, May 10, 2016; "State Funeral Committee for Kang Sok Ju," Rodong Sinmun (in Korean), May 21, 2016