Choe Ryong Hae to OGD? [revised 13 JAN 2018]
Yonhap reports that Choe Ryong Hae [Ch'oe Ryong-hae] was appointed director of the Workers' Party of Korea [WPK] Organization Guidance Department [OGD] (officially called the Organizational Leadership Department) during the October 2017 plenary meeting of the WPK Central Committee.  With his elevation to the director's chair at OGD, Choe was also returned to membership status on the WPK Central Military Commission [CMC].  Prior to the October plenary meeting, Choe held the positions of WPK Vice Chairman and Vice Chairman of the State Affairs Commission.  He was also a Presidium Member of the WPK.  Yonhap had reported in October of the possibility of Choe's OGD appointment, but this latest item cites the ROK Ministry of Unification [MOU], which might indicate that Choe's new position was disclosed during exchanges of personnel registers of senior DPRK and ROK officials during the January 9 inter-Korea meeting.
Yonhap also reported that Jong Kyong Thaek [Cho'ng Kyo'ng-t'aek] has become the leading official of the State Security Department [SSD]/Ministry of State Security, as the permanent replacement of Gen. Kim Won Hong [Kim Wo'n-hong], and former WPK Finance and Accounting section chief Sin Kyong Man [Sin Kyo'ng-man] was leading Office #39, possibly a replacement for Jon Il Chun [Cho'n Il-chun].
OGD is one of the most powerful institutions in the DPRK.  It controls the party organizations (Party Cells, primary party committees, provincial party committees, etc) which exist throughout the regime, including the country's administrative divisions (city, county, province), production units and work sites, government ministries, and military and security organizations (further explanation of OGD's functions in the regime, as it pertains to WMD development can be found here).  Because its tentacles stretch throughout the DPRK's political culture, it performs a number of functions including personnel affairs, back channel domestic reporting and communications channels and policy execution.
The OGD Director's position has traditionally been closely held by the Kim Family.  From 1974 to 1992, then from 1994 until 2011 late DPRK leader Kim Jong Il (Kim Cho'ng-il) was de facto OGD Director.  Following KJI's death, his sister and aunt of the current leader Kim Jong Un (Kim Cho'ng-u'n), Kim Kyong Hui (Kim Kyo'ng-hu'i) served as interim OGD Director for a brief period.  From late 2012 to 2017, Jong Un was presumed to be the director.  Choe Ryong Hae's appointment makes him the first person who was not a member of the Kim Family to serve as OGD Director since Yun Sung Gwan.  Yun served as OGD Director from 1992 to 1993, after Kim Jong Il recuperated from injuries sustained whilst horseback riding.
There are some factors and circumstances to consider in the context of Choe's OGD appointment:
It is no accident that over two months following Choe's formal appointment (it is likely, given Pyongyang's practice on senior personnel appointments he has been on the job for months before it was publicized) that the 5th Meeting of Party Cell Chairs convocated in Pyongyang.  Basic party organizations like party cells and primary party committees are directly under OGD's jurisdiction and the conference platform included all of OGD's senior personnel.
During the conference, Choe delivered the key report on its opening day.  Subsequent film footage released by DPRK state media of the conference showed all the WPK Vice Chairman, arriving to the conference venue through the front door with the other participants.  Choe was the last to arrive.  The perimeter of guards deployed in place outside the conference venue was the same for Choe as it was for Kim Jong Un.  In contrast to the other WPK Vice Chairman, who arrived in Mercedes Benz S-500 sedans, Choe arrived in a Mercedes or Maybach customized limousine and the hallway was cleared with participants kept at a distance.  Jong Un greeted the WPK Vice Chairmen backstage, Choe led the other Vice Chairman in a single file line behind the Suryo'ng.
Choe has proven himself reliable to Kim Jong Un, a special envoy in overseas trips and managing construction projects.  But as OGD Director does he also serve as an at-large representative of Kim Jong Un's closest aides in the Personal Secretariat, specifically Kim Yo Jong, half-sister Kim Sul-so'ng, Kim Chang Son and Jo Yong Won?
Choe's rise in the regime's formal hierarchy found him supplanting VMar Hwang Pyong So [Hwang Pyo'ng-so'], Director of the Korean People's Army [KPA] General Political Department [GPD].  It should be noted that VMar Hwang replaced Choe as head of GPD during 2014.  VMar Hwang has not been observed in DPRK state media since he attended the October 2017 WPK Central Committee plenary meeting.  Prior to the plenary meeting, the GPD was undergoing an assessment and audit process by the central party.  The GPD, which is much larger in personnel and resources than OGD, is technically under OGD's control.
In his capacity as OGD Director, Choe Ryong Hae would be involved in some capacity (direct or indirect) in the GPD audit's outcome.  But there are two ways one might look at Choe's role.  Did he initiate the audit as revenge against Hwang Pyong So for maneuvering Choe out of the GPD Director's job in 2014?  Or did Choe use the party assessment of the GPD as an opportunity for career advancement?
While sometimes holding positions placing him in OGD's orbit, Choe is not an OGD man.  One thing to note about OGD is that it is a very insular organization whose senior officials have risen to power after holding a series of successive OGD positions (instructor, cadre, section chief, etc). There had been rumors that Choe's 2014 ouster from GPD and his revolutionary education through labor in 2015 had been orchestrated by senior OGD personnel, specifically OGD's senior deputy director for administrative affairs Jo Yon Jun [Cho Yo'n-ch'un].
And yet, Choe's career setbacks during the last three years might be ascribed to the maneuverings of what Ken Gause calls the "GPD Mafia" which has dominated the DPRK's political culture since Kim Jong Un assumed power and which occupied key positions in the DPRK's national security community (including Gen Kim Won Hong at State Security and Gen Jo Kyong Chol [Cho Kyo'ng-ch'o'l] as Director of the Military Security Command [MSC]
Based on the platform participants at the Party Cell Chairs' conference, the senior OGD deputy directors such as Jo Yon Jun, Kim Kyong Ok [Kim Kyo'ng-ok], Min Pyong Chol [Min Pyo'ng-ch'o'l] there appears to be some support for Choe's appointment, or at least senior OGD personnel are at peace with Choe's appointment so as not to be compelled into early retirement.
Choe's appointment along with the appointment of Jong Kyong Thaek at State Security are no accident.  State Security reports directly to and works closely with OGD.  Choe and Jong's new positions represent a kind of house cleaning to avoid some of the problems that have affected State Security during the last 18 months.  Choe and Jong's appointments are also intended to usher in 3rd generation DPRK cadres in the internal security services.  The most notable generational personnel changes for his peer group that Kim Jong Un has implemented have occurred at the county and city offices of the State Security Department and, to a lesser degree, the Ministry of People's Security
It remains to be seen if Choe Ryong Hae as OGD Director will usher in additional next generation cadres in the central party, the DPRK Cabinet and other power organizations.  The October 2017 plenum at which Choe was appointed also saw several senior WPK officials (such as Kim Ki Nam and Choe Thae Bok) retiring from public life.  In with the new, out with the old?
Choe is the last man standing of the trio of senior DPRK officials who visited South Korea during the 2014 Asia Games.  If Choe leads or is a member of the DPRK's delegation to the Pyeongchang Winter Olympics, given the OGD position, his ROK interlocutors will know they are dealing with member of the core leadership who theoretically will have some autonomy as to what he can discuss and will be assured of clear communication channels back to Jong Un.
A bona fide DPRK princeling (being the son of 88th Sniper Brigade member former defense minister Choe "The Eldest Son Succeeds His Father" Hyon), Choe Ryong Hae's career, like that of many of his peers in the DPRK elite, has fallen and risen.  A longtime official overseeing the KIS Youth League, Choe was almost executed during the 1990s when routine party audits found that he was selling scrap metals (collected by youth league members) to foreign buyers without official permission.  He was spared the firing squad after his patron and childhood playmate Kim Kyong Hui appealed to KJI.  Choe was assigned re-education through labor, allegedly working for a time at the Pyongyang sewerage department.  He later returned to the Central Party as deputy director of the WPK General Affairs Department and was appointed Chairman (then-called Chief Secretary) of the North Hwanghae WPK Provincial Committee.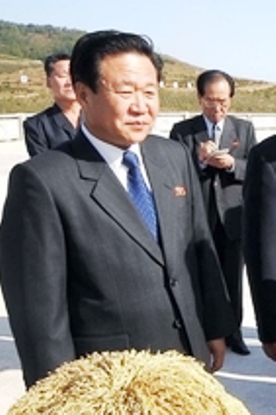 In 2009 Choe was selected to serve as a mentor and escort for Kim Jong Un.  He was promoted to the rank of KPA General (taejang) in September 2010 in a promotions list that also included Jong Un and Kim Kyong Hui.  During the 3rd Party Conference the same month, Choe was elected to a series of senior positions (WPK Secretary, Political Bureau status, CMC membership) and has been at the power center since that time.  From 2012 to 2014 Choe joined the uniform military and served as Director of the KPA GPD.  Following the dismissal and execution of Jang Song Thaek (Chang So'ng-t'aek) in December 2013, Choe was expected to replace Jang as the DPRK's #2 official, but the groom still waited at the alter.  Three months later, in early 2014, he was removed from office as GPD Director and CMC Member under allegations of financial improprieties.  Two months thereafter Choe went back to the Party apparatus, and until mid-2017 was in charge of Workers' and Social Organizations.  Whether wearing the hat of a KPA General or Party cadre, Choe has served as Jong Un's personal representative in a number of overseas interactions with foreign leadership (including attending the Rio 2016 Olympic Games).  Choe's career experienced yet another setback in the fall of 2015.  He disappeared from public view from October to December 2015, undergoing re-education through labor having taken responsibility for defects and delays in public infrastructure projects.
In addition to demonstrating his loyalty to Kim Jong Un, Choe Ryong Hae has demonstrated significant resilience in his career.   In addition to having enjoyed many years of Kim Kyong Hui's assistance and political patronage, Choe Ryong Hae has other personal ties to the Suryo'ng.  His wife was very close with Ko Yong Hui (Ko Yo'ng-hu'i) , KJI's fourth wife and mother of Jong Un and Kim Yo Jong [Kim Yo'-cho'ng], based on their being members of the prestigious Mansudae Art Troupe at the same during the 1970s.  There is also an unconfirmed rumor that one of Choe's sons is married to Yo Jong.  Jong Un and Yo Jong probably also knew Choe Ryong Hae's younger brother, who was a lead AV guy at the Kim Family's residential compounds.  In contrast to other members of the central leadership, Choe Ryong Hae has been able to mobilize publicity efforts in DPRK state media to cover his on-site visits.