Gen. O Kuk Ryol
updated February 23, 2018
General O Kuk Ryol is a retired former Korean People's Army [KPA] officials and senior DPRK Government official.  O is a member of the Workers' Party of Korea [WPK] Central Committee and deputy to the Supreme People's Assembly.  He is the patriarch of one of the most influential elite families in North Korea.  Gen. O was a leading advocate and supporter of the DPRK's development of nuclear weapons during the 1980s and for two decades controlled one of the most influential patronage network in the North's armed forces.
O Kuk Ryol was born in Jilin Province, PRC, in 1931.  He is either the son or nephew of revolutionary hero O Jung Hup.  O's ties to the Kim Family go back to the 1930s.  After the war, O was one of the war orphans looked after by KIS first wife (and KJI's mother), Kim Jong Suk.  O attended the Mangyo'ngdae Revolutionary School and Kim Il Sung University.  O also received military education in Russia at the Soviet Air Force Academy and Frunze Military Academy (currently known as the Combined Arms Academy).
O began his official career in 1964 in the Korean People's Army Air Force, as an administrator of the Kim Ch'aek Air Force Academy.  He was first elected a deputy (delegate) to the 4th Supreme People's Assembly in 1967.  He was promoted to Major General (sojang) in 1968 and became commander of the Air Force.  O Kuk Ryol was elected to full membership to the WPK Central Committee at the 5th Party Congress in 1970.  He officially traveled outside the DPRK three times in the 1970s, including leading a delegation to China in 1971. In October, 1977, O was appointed Deputy Chief of the KPA General Staff.  He was promoted to Chief of the General Staff in September, 1979.
In the 1970's O Kuk Ryol was one of the principal facilitators of establishing KJI's monolithic ideological guidance system in the Korean People's Army. O Kuk Ryol was promoted to Colonel-General (sangjang) in September 1980.  At the WPK 6th Party Congress in October, 1980, Gen. O was elected a member of the Political Bureau (Politburo) and member of the WPK Central Military Committee.  In 1982 O gave a keynote speech at the Mangyongdae Revolutionary School.
He was promoted to General (taejang) in April, 1985.  In the 1980's he was responsible for the creation of the Mirim Electronic Warfare Institute (Automated Warfare Institute), the country's premier training institution in electronic (cyber) warfare.  He was removed as Chief of the General Staff in 1988, as well as expelled from the WPK Political Bureau and suspended from the WPK Central Military Commission. Gen. O's downfall has popularly been linked to a dispute with then-Minister of the People's Armed Forces O Jin U (no relation) and other 1st revolutionary generation military leaders.  Instead, O Kuk Ryol had a number of disputes with O Jin U's principal deputy Colonel-General Ri Pong Won who orchestrated O Kuk Ryol's ouster from high office.
Gen. O was sent on a six-month re-education program at the Kim Il Sung Higher Party School.  O refused a chauffeur-driven sedan.  To get from his home in the Sojangtong VIP area, O either walked many miles to the school or, when the weather was cold or inclement, taking a city bus with other Pyongyang citizens.
O returned to the power center as department director of the WPK Civil Defense Department in late 1989.  He was responsible for managing personnel shuffles (purges and promotions) among KPA general-grade officers from 1991 to 1993.  Around 1992, O Kuk Ryol was appointed department director of the WPK Operations Department, managing military intelligence collection and planning and training for special activities targeting South Korea.
In February, 2009, O Kuk Ryol was appointed Vice Chairman of the National Defense Commission.  According to one report, he has also established a foreign trading corporation.  Gen. O presided over the consolidation of much of the DPRK's foreign intelligence collection (focused primarily on the ROK and Japan), operations, education and training into the NDC Reconnaissance General Bureau.  Gen. O managed the NDC RGB in coordination with Gen. Kim Yong Chol.  In 2012 O was elected an alternate member of the WPK Political Bureau.  In 2016, he effectively retired from office, although he still makes appearances at state events.
Gen. O Kuk Ryol is highly intelligent, humble and loyal to Kim Jong Un.  He was an early user of computers during the 1980s and lead the KPA on a military modernization program at that time, including development of nuclear weapons, expanding and advancing ballistic missiles and adopting electronic (and late cyber) warfare.  Aspects of Gen. O's military modernization program are still used or being implemented in the DPRK as of 2017.  O was also a highly respected military commander and for two decades controlled one of the key patronage networks in the KPA.
Gen. O is said "to be a commanding officer who is neat and tidy in character and behavior, and has a careful planning ability and propulsive force to push ahead with what should be done."  In contrast to many of his peers, O is not a heavy drinker and was not a major participant in the social culture of other DPRK elites.  He is married and has six children.  O also takes care of his health and is avid walker.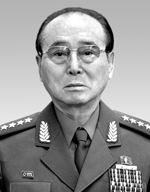 O Kuk Ryol

Member, WPK Central Committee

Deputy, Supreme People's Assembly [SPA]

Career

1964: Instructor and administrator Korean People's Air Force Academy

1967: Deputy, 4th Supreme People's Assembly

1968: Promoted, Major General

1970: Elected, Member, 5th WPK Central Committee

1972: Deputy, 5th SPA

1977: Appointed, Vice Chief of the KPA General Staff

Deputy, 6th SPA

1979: Elected, Alternate Member, WPK Political Bureau

Appointed, Chief of the KPA General Staff

1980: Promoted to Colonel-General

Elected, Member, WPK Political Bureau

Elected, Member, WPK Central Military Commission

Elected, Member, 6th WPK Central Committee

1982: Awarded, Order of Kim ll Sung

Deputy, 7th SPA

1985: Promoted, General

1986: Deputy, 8th SPA

1988: Dismissed as Chief of the KPA General Staff

1989: Director, WPK Civil Defense Department

1990: 9th SPA

1992: Director, WPK Operations Department

1994: Member, Kim Il Sung Funeral Committee

1995: Member, O Jin U Funeral Committee

1998: Deputy, 10th SPA

2003: Deputy, 11th SPA

2009: NDC Vice Chairman

Deputy, 12th SPA

2010: (November) Member, Jo Myong Rok Funeral Committee

2011: (December) Member, Kim Jong Il Funeral Committee

2012: (April) Elected, Alternate Member, WPK Political Bureau

2013: (December) Member, Kim Kuk Thae Funeral Committee

2014: (April) Deputy, 13th SPA

(July) Member, Jon Pyong Ho Funeral Committee

2015: (November) Member, Ri Ul Sol Funeral Committee

(December) Member, Kim Yang Gon Funeral Committee

2016: (May) Elected, 7th WPK Central Committee

Member, Kang Sok Ju Funeral Committee
See also:
"Who Controls NK?" North Korea A to Z . Seoul: Korean Broadcasting Station
Lee, Young-jong, "Bigwigs in North vie for power over investments" JoongAng Ilbo, July 5, 2010
Martin, Bradley. Under the Loving Care of the Fatherly Leader: North Korea and the Kim Family Dynasty New York, NY: Thomas Dunne Books, 2004 pp. 471, 830 (Ch. 27, note #8)
"Narrative Biographies of DPRK Figures," Seoul SINDONG-A January 1995, (Supplement) pp 210-278
"O Kuk Ryol Accompanies Kim Jong-il to view KPA live fire exercises" Northeast Asia Matters: the Korean Peninsula (http://asiamatters.blogspot.com/2010/04/o-kuk-ryol-accompanies-kim-jong-il-to.html)
Suh, Dae-sook. Kim Il Sung: The North Korean Leader pp. 42, 46 and 286
Yonhap News Agency. The North Korea Handbook Armonk, NY: M.E. Sharpe, 2003 p.867
---