Jang Song Taek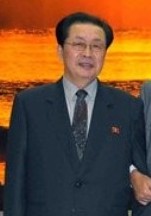 When there were banquets Kim Jong-il's sister and her husband would attend.  At such time the guests would dance the fox trot or disco or music of a dance band.  Sometimes they would gamble at blackjack or mahjong […]    Her husband was a tall, slender, handsome man…as soon as they arrived, Kim Jong-il introduced us.  "This is my younger sister, Kyong-hui.  This is Madame Choi.  Say hello."

Kyong-hui introduced herself first, then her husband, said, smiling, "How do you do?  I'm Chang Song-taek."
updated 28 January 2011
Chang Song-taek was born in January 1946, in North Hamgyong Province.[i] He was the youngest of five children, with two older brothers and two sisters.  He entered Kim Il-song University in 1963, studying Political Economy.  Chang was an average-performing student, but known on the campus as the charismatic leader of a student performing arts group, in which he sang, danced and played the accordion.  Jang's high profile on the campus attracted the attention, and affections, of Kim Kyong-hui, Kim Chong-il's sister and Kim Il-song's eldest daughter.
Kim Il-song opposed his daughter's relationship with Chang.   He was eventually expelled from Kim Il-sung University.  Despite his transfer to Wo'nsan University of Economics, Kim Kyong-hui insistently continued their relationship.  In 1966, Chang Song-taek and Kim Kyong-hui graduated from the KIS High Party School (or KIS School for Higher Party Officials).  They also studied at Moscow State University from 1968 to 1969.
In 1971 and 1972 Chang Song-taek and Kim Kyong-hui were married and she took her first official position as a manger in the executive officer of the Korean Democratic Women's Union.  In 1972 Chang began his career as a notification instructor at the Pyongyang KWP City Committee.  He later conceived the idea of using North Korean diplomats to earn currency for the regime through legitimate, and illicit, businesses.[ii] In 1976 he supervised, in coordination with the State Security Department (SSD), a mass relocation of North Korean citizens in Pyongyang.  It is not clear if this is related to numerous accounts that Chang was expelled from the central party in the late 1970s.  He was assigned as manager at the Chollima (Kangson) Iron Works, where he sustained severe burns during an industrial accident.[iii]
In 1977 Chang's oldest child, daughter Chang Kum-song, was born, followed around 1979 by his younger child, son Chang Kim-song.  In 1982, Chang Song-taek became section chief and later deputy director in the CC KWP Workers' Organization Department with responsibility for the Kim Il-song Youth League and youth labor brigades.  In 1985 he was promoted to senior deputy director and became involved in capital city construction.
In 1986, Chang was elected a deputy (delegate) to the 6th Supreme People's Assembly (SPA).  In June, 1989, he was elected an alternate (candidate) member to the KWP Central Committee, and promoted to full (regular) member in December, 1992.
In 1992 Chang Song-taek became the senior deputy (1st Vice) director of the CC KWP Organization Guidance Department.  In this position, Chang became responsible for the daily management and personnel of SSD, Ministry of Public Security (MPS), Central Public Prosecutor's Office and the DPRK Central Court.  Chang was also tied to the Taesong Corporation, a holding entity of Office #39.
Chang participated in several delegations and interactions concerning inter-Korean relations, both in the ROK and Pyongyang.  Chang also attended Kim Chong-il's guidance tours in the country in the 1990s and 2000s.  From June 2003 to January 2006, Chang was neither seen nor observed in the DPRK media.  He attended the first session of the 11th SPA in September 2003, and effectively disappeared from DPRK public life for nearly three years.
In January 2006, Chang resurfaced in attendance at a Lunar New Year's banquet for the Chinese Ambassador to the DPRK.  In March of the same year he led a DPRK delegation on a study tour of China.  In September 2006, his daughter Chang Kum-song died in Paris from a prescription drug overdose.  On 15 October 2006 Chang sustained minor injuries after his chauffer-driven sedan collided with an oncoming truck near the Triumphal Arch in Pyongyang.
In December 2007, Chang Song-taek was appointed director of the reconstituted CC KWP Administration Department.  In this position Chang resumed management of the country's internal and domestic security apparatus, policy inspection groups and control of state-owned enterprises.
At the first plenum of the 12th Supreme People's Assembly in April 2009, Chang was elected one of the new members of the National Defense Commission.  In June 2009, Chang made his first reported appearance with Kim Kyong-hui at a guidance tour of a cooperative farm and opera rehearsal.  Since June 2009, Chang and Kim have been the most frequent attendees of Kim Chong-il's public appearances.
On 7 June 2010 Chang Song-taek was elected Vice Chairman of the National Defense Commission.  On 28 September 2010 it was publicized that Chang Song-taek had been elected an alternate member of the CC KWP Political Bureau and a member of the Central Military Commission.
Notes about Chang Song-taek's career
The late Hwang Chang-yop wrote of the Chang-Kim courtship in his memoir[iv]:
Kim Il-song eventually found out rather than separating, the couple was continuing to meet secretly and more frequently.  Kim ordered his brother Kim Yong-chu to have Chang Song-taek expelled…and have him sent to University of Economy in Wonsan.  Being directly ordered by Kim Yong-chu, I could not protect Chang any longer.  So I gave him a book I treasured and encouraged him to study hard.
According to one official KCNA biography Chang Song-taek began his official career in the Pyongyang KWP City (Municipal) Committee in 1972.  In 1974, the two brothers Kim Song-ae, Kim Chong-il's stepmother and 1970s political competitor were expelled from the committee.
…the guerilla group did not allow did not allow any challenged to their political realm.  After Kim Jong Il became Kim Il Sung's successor in February 1974, the guerilla group attacked Kim Song-ae's group with corruption cases involving her two brothers and purged them at a meeting of the Pyongyang City Party in June.[v]
As a notification instructor, officer and manager in the CC KWP Organization Secretariat (under the auspices of the Three Revolutions Movement) Chang helped KCI develop the political patronage network integral to KJI's power building prior to his official announcement as Kim Il-song's successor at the 6th Party Congress in October 1980.  Chang was a primary architect of the 3rd Floor, including Office #39, the means for the regime to earn hard currency and provide material rewards KCI's political supporters.
Chang Song-taek was purged around 1978, and sent to work as a foreman and party secretary, at Kangson Steel Mill in South Pyongan Province located between Pyongyang and Nampo.  There are several possible reasons why Jang was expelled.  One account said Chang was caught hosting a secret VIP party, similar to ones hosted by KCI.  Another account says that Jang was indolent and frequently absent from his Three Revolutions job, taking advantage of his status as KIS' son-in-law.  It is also possible that Jang was KJI's scapegoat for the slipshod evacuation of Pyongyang in 1976.
One final possibility is that Chang's family background caught him between the supporters and opponents of Kim Chong-il's succession campaign in the 1970s.  Chang's uncle Chang Chan-hwon, a deputy Minister of the People's Armed Forces and member of a faction opposed to KCI's succession led by then-Vice President Kim Tong Gyu[vi] Interestingly, Chang Chan-hwon had provided Chang's recommendation to Kim Il-song University.  He died from a heart attack in 1980.
In the 1980s Jang served as political manager of capital city (Pyongyang) construction projects in coordination with the Kim Il-song Youth League and other party-managed social organizations.  These projects built KCI's succession resume in the 1980's.  Chang supervised the development of Kwangbok Street's gargantuan apartment complexes from 1986 to 1988 and renovations in other sections of the Mangyongdae District, Pyongyang, in 1988 and 1989.
Kim Chong-il proposed Chang as Minister (Director) of State Security in 1987 when the incumbent died.  Kim Il-song rejected this proposal because he thought Chang was "too greedy."
According to a report in the Israeli press, Kim Kyong-hui and Chang Song-taek were Kim Il-song's personal representatives to negotiate an aborted 1993 deal with Israel that would have bought the DPRK's nuclear program.
In 1992 Chang Song-taek was appointed senior deputy director of the CC KWP Organization Guidance Department.  Chang became responsible for both official and unofficial reporting and communications channels to Kim Chong-il within the central party.  Chang took control of reporting and senior personnel matters in the country's domestic—Ministry of Public Security, Central Public Prosecutor, Central Court—and political—State Security Department—security agencies.  Chang also had responsibilities in Office #39 Taesong Corporation.  Chang was a key personality as the DPRK officially transitioned to Kim Chong-il's formal assumption of power.  Chang's was either so respected or so influential that the late Kye Ung-tae, a party secretary and intelligence manager who technically outranked Chang, offered his chair.
Ken Gause wrote about KCI's power building strategy, of which Jang and his wife were part, during the three year  transition:
Kim avoided taking the reins of power as the country entered into a three-year mourning period for the late Kim Il-sung.  Even as North Koreans starved to death, Kim was able to build support for the regime based on the loyalty and admiration the people felt for his father.  He combined this power-consolidation strategy aimed at the elite, which stressed benevolence and goodwill toward first-generation leaders, who were the loyal followers of Kim Il-sung.  He also instituted the military-first policy, which tightened his grip on the military.  This strategy bough Kim Jong-il time to consolidate his power, maintain a semblance of social stability, and weather the storm of a failing economy, which he did not begin to deal with until 2002.[viii]
According to Hwang Chang-yop, Chang Song-taek managed the political components of the disbanding of the VI Army Corps in North Hamgyong.  Chang, in cooperation with Kim Yong-chun (current NDC Vice Chairman and Minister of the People's Armed Forces) was responsible for the enquiry and subsequent execution of the VI Corps' commanders.
In 1997 a State Security Department manager reportedly expressed a lack of confidence in KCI's leadership.  He became one of five SSD officials executed at the outset of Chang's inspection regime on SSD, which swallowed dozens of security, government and party officials, as the audits trickled into state-owned factories.
Chang spent a month in Japan in 2000, and later that year attended a Pyongyang reception for then-US Secretary of State Madeline Albright.
After September 2003, Chang Song-taek seemed to disappear from DPRK public life, along with Kim Kyong-hui.  This occurred at the same time as CC KWP Secretary, Kim Yong-sun was severely injured in a June 2003 car accident, from which he subsequently died.  There was also a rumor that Ko Yong-hui, Kim Chong-il's 4th wife, was also injured in a car accident.                                                                                                                                                               It was alleged by some in the Pyongyang watching community that Chang was purged for factionalizing, whereby his patronage powers established a political center that existed in competition with Kim Chong-il.  It was also rumored that Chang fell out of favor against fellow OGD deputy director, Yi Che-kang.  There were also several accounts of a lavish wedding ceremony and reception, hosted by Chang Song-taek and Kim Kyong-hui and attended by members of the senior leadership.  Many of these personalities were subsequently removed or transferred out of their party or government positions.
The most accurate analysis of Jang's disappearance is likely to be found in this report from 2009:
Rather than a purge in the traditional sense, however, Kim may have decided that it was necessary for Jang to maintain a low profile, given that his continued activity under those circumstances would have been untenable and possibly even a threat to stability. Given the sensitive nature of the succession issue, the ostensible explanation for the dismissal—abuse of power and corruption, as reported in foreign media and probably based on stories circulating in North Korea — might have simply been a cover for the real reason.
In 2007 the regime reconstituted (revived) the CC KWP Administration Department, under the CC KWP Secretariat.  The Administration Department existed until 1990 (led by KCI confidante and former military attaché, Kim Chang-son) when its responsibilities were migrated to OGD and Kim Chong-il's Personal Secretariat.  As Administration Director, Chang was responsible for guidance and management of the State Security Department, the Ministry of Public (People's) Security, capital city construction, the CC KWP Workers' Organizations Department, policy inspection groups and the DPRK's legal system (including the Central Public Prosecutor's Office and DPRK Central Court).  Chang also took an active role in the country's relations with ROK and PRC.
Members of Chang's patronage network emerged from their sabbaticals and took senior positions in the party and government.  Pak Myong-chol, removed as head Korea Post and Telecom in 2003, had been restored in 2005 (a personnel outlier).  Yi Kwang-gon, who was removed as Minister of Foreign Trade, took a position as deputy director in Office #39.  Pak became involved in the country's dealing with Egyptian firm Orascom, which built a 3G mobile network and developed Koryolink, one of the DPRK two cellular phone providers.  Yi is a key personality in the development of Rason (Rajin-Songbong) and other economic deals with the PRC.  Yi Yong-su, former chief KWP secretary in Nampo, became one of Chang's deputies at the Administration Department.
As manager of the country's border and customs guards (through the Ministry of People's Security), as well as components of the KWP's economic auditing agencies Chang reportedly supervised the governments attempts in 2008 to curb previously tolerated market activities.  There were reports of party and provincial/municipal officials, as well as traders, being removed from office, incarcerated or executed.  The inspections were cut short when KCI had a stroke in August, 2008.
While KCI recuperated from September to November, 2008, Chang reportedly assumed a number of Kim Chong-il's reporting and control channels on a temporary basis.
Chang's migration to the power center continued when he was elected to the National Defense Commission at the 1st plenum of the 12th Supreme People's Assembly in April 2009.
In early June 2009, Chang Song-taek made his first reported appearance in the DPRK media with his wife, Kim Kyong-hui, at Kim Chong-il's field guidance of the Tongbong Cooperative Farm in South Hamgyong Province.  This appearance also marked Kim Kyong-hui's first appearance in the DPRK media attending one of KCI's visits.  Since that appearance Kim Kyong-hui assumed a public presence in the DPRK media and has become Kim Chong-il's closest cohort.
Chang Song-taek and Kim Kyong-hui are tied to numerous DPRK corporations and business dealings.  In addition to supervising the construction of 100,000 new apartment residences in Pyongyang, Chang is linked to the DPRK's efforts at developing Rajin-Sonbong and other areas with the PRC.  Chang is a key player, along with Kim Yang-gon (CC KWP United Front Secretary and Director) and Chon Il-chun (Deputy Director, Office #39) in the Taepung International Investment Corporation and the State Development Bank.
On 7 June 2010, Chang Song-taek was elected Vice Chairman of the National Defense Commission.  Around the time of Jang's election as NDC Vice Chairman, two conflicting narratives have emerged on the regime's power dynamic.  A 9 June 2010 Chosun Ilbo[xxi] placed Jang as secondary to Gen O Kuk-yol behind KCI:
Defectors and sources in North Korea said power is being divided up as Kim Jong-il's health deteriorates, and at the center of the new power structure is O rather than Jang. One high-ranking source in North Korea said the four-man clique emerged apparently due to Kim's weakening grip on power. There are even rumors that O has assumed part of Kim's jobs of signing and approving official documents as Kim has difficulties taking care of them due to symptoms of dementia and other health problems.

O is the only official in North Korea who can speak freely with Kim Jong-il and enjoys the leader's absolute trust in him.

[…]

A senior defector said Jang Song-taek "can't be seen as the No. 2 official just because he oversees administrative duties on behalf of Kim Jong-il." Jang could surpass O only if he also oversees the Workers' Party, but there is no chance of that for the time being, and the four-man leadership led by O will continue for now.
A 6 June 2010 media report claimed that "although he is nominally vice chairman of the NDC, O Kuk Ryol has in fact been neutralized" and a highly-placed DPRK citizen remarked, "Jang Song Thaek is extraordinarily good at trickery, but at the moment he follows the order of the military. At the moment, Jang Song Thaek is not pursuing any remarkable changes because [KCI] is still alive."
At the September 2010 Plenary Meeting of the CC KWP, Chang Song-taek was elected an alternate (candidate) member of the Political Bureau and member of the Central Military Commission.  He is one of five (5) members of the DPRK elite with dual NDC and CMC membership, in addition to candidate status on the Political Bureau.  Kim Kyong-hui was elected to full (regular) membership on the Political Bureau; while she does not hold office on either the NDC or CMC, several hours ahead of the September 2010 Plenary Meeting and 3rd Party Conference, she was given the rank of General in the KPA.  If their positions and titles are taken in total, Chang and Kim are evenly distributed in the party and government.
Chang did not appear in the DPRK media for a number of days.  One report alleged that Chang was under investigation by State Security, along with O Kuk-yol, and that a number of individuals linked to their patronage network were being purged by Kim Chong-un.
Chang attended a meeting and dinner party hosted by Kim Chong-il for the CEO of Orascom Telecom on 23 January 2011.
Chang Song-taek attended all four (4) of KJI's trips outside the country in 2010 and 2011.  In June he signed an agreement and attended a stone-laying ceremony on Hwanggu'mpy'o'ng Island in North Pyo'ngan where he appeared with Chinese Ministry of Commerce Chen Deming.
Chang Song-taek Family[xxii]
Chang Song-taek and Kim Kyong-hui have been married for nearly four decades.  This marriage has produced two children.    Elder child, daughter Chang Kum-song was born around 1978, studied abroad and worked in a central party office.  She passed away in Paris in 2006.  Chang and Kim's younger child, Chang Kim-song, was born around 1979 and reportedly "studied in Sweden in the 1990s."[xxiii] Chang Kim-song reportedly works as one of his father's aides.  He is not the same man as Kim Chang-hyun, a child allegedly resulting from an affair between Kim Il-song and a nurse, and adopted by Chang and Kim.
Chang Song-taek has one older sister, Chang So'ng-ae, two deceased older brothers, Chang So'ng-kil and Chang So'ng-u, and a younger sister.  He has five (5) nieces and nephews on his side and at least ten (10) nieces and nephews on his wife's side.
Chang Song-u
Chang Song-u (KPA VMar) was born in 1935 in Kangwon Province.  He joined the Korean People's Army in 1950 and served in the Korean (Fatherland Liberation) War.  He joined the CC KWP Organization Guidance Department as a deputy director in 1973.  VMar Chang served in a number of positions including commanding officer of III Army Corps, political director of the Guard Command and director, CC KWP Civil Defense Department.  He attended a central report meeting held on the 15th anniversary of KIS death in July 2009, and passed away in August, 2009.
Chang Song-kil
Chang Song-kil (KPA Lt. Gen.) was born in 1939.  Chang's last significant posting was as commanding officer of the 105th Ryu Kyong Su Tank Division, which is part of the Pyongyang Defense Command.  He became a curator at the MPAF Revolutionary Museum and passed away in 2006.  His remains are buried in the Patriotic Martyrs Cemetery in the Yongsong District (Yongsong-kuyok) of suburban Pyongyang.
Chang Song-hwa
Chang Song-hwa may work at the Kim Il Sung Higher Party School (School for Higher Party Officials) in east Pyongyang.  Chang worked as a professor at Kim Il Sung University, where he was Kim Chong-il's teacher in party history.[xxiv]
---
[i] Until KCNA published an official biography upon his election to NDC Vice Chairman in June 2010, Chang's birthday has been reported as 2 February 1946 and 6 February 1946.  His birthplace was also open to interpretation with some sources indicating Kangwon Province (specifically, Chonan County) and others, North Hamgyong Province.  See "Jang Song Taek Elected NDC Vice-Chairman" KCNA, 7 June 2010; North Korea Handbook. Yonhap News Agency (Armonk, NY: M.E. Sharpe, 2003); "Who Controls NK?" in North Korea A to Z. Korean Broadcasting Station, 2007;  EU Council Regulation 1283/2009 (http://nkleadershipwatch.files.wordpress.com/2010/01/council_regulation_ec_1283_221209.pdf) p. 23.
[ii] See Hunter, Helen-Louise. Kim Il-Song's North Korea. (Wesport, CT: Praeger, 1999)
[iii] Chang is not the only KCI lieutenant suspended from the central party or sent away for reeducation.  Kim Yong-chun, O Kuk-yol and Senior Vice-Minister of Foreign Affairs Kang Sok-chu were all subject to "banishment."  See "'Revolutionization;' Euphemism for Banishment" Kim Kwang In, Chosun Ilbo. 7 December 2001.
[iv] See  Hwang, Jang-yop.  Na nun yoksa ui chilli rul poatta : Hwang Chang-yop hoegorok. Seoul: Hanul, 1999.
[v] See Lim, Jae-Cheon.  Kim Jong Il's Leadership of North Korea. New York: Routledge, 2009.
[vi]See "Inside North Korea's Black Box: Reversing the Optics" Alexandre Y. Mansourov in DPRK Policy Elites (Kongdan Oh-Hassig, ed.) Alexandria, VA: IDA, 2004.
[vii] See ""Background on North Korea-Iran Missile Deal" Oded Garot, Mar'riv. 14 April 1995.
[viii] See "Can the North Korean regime survive Kim Jong Il?" Ken E. Gause,  Korean Journal of Defense Analysis. Vol. 20 Issue, Issue No. 2, June, 2008; "Scenarios and Signposts: Managing Future North Korean Crises" Ken E. Gause, Center for Naval Analyses (Alexandria, VA: 2009); and "Kim Jong Il's Intergenerational Balancing Act" Jei Guk Jeon, Strategic Forum, No. 152, December 1998 (Washington: National Defense University).
[ix] "North Korean Leader Accompanied By Sister During Public Tour" Yonhap News Agency, 7 June 2009.
[xi] "Kim Jong Il Inspects Headquarters of Minstry of Public Security" KCNA 22 November 2009.
[xii] "Kim Jong Inspects Newly Built Fruit Farm" KCNA 29 November 2009.
[xiii] KJI's first MPS-related appearance was reported by KCNA on 9 November 2009 when he attended an art performance "by the art squad of the Ministry of Public Security."  Among the songs KCNA reported as being performed was "male quintet ensemble 'Let's Defend Socialism'."
[xiv] See "SSD Deputy Director Went to China in mid-November" NK Leadership Watch (http://nkleadershipwatch.wordpress.com/2009/12/11/ssd-deputy-director-went-to-china-in-november/)
[xv] See "N. Korea's Security Minister Visits China: KCNA" by Tony Chang Yonhap News Agency 15 December 2009 and "Document Signed Between DPRK and Chinese Security Ministries" KCNA 17 December 2009
[xvi] See "Kim Jong Il Inspects Court and Central Court Building" KCNA 23 January 2010
[xvii] See "Joint Statement by the North Korean Ministry of Public Security and Ministry of State Security" Northeast Asia Matters: The Korean Peninsula (http://asiamatters.blogspot.com/2010/02/joint-statement-by-north-korean.html)
[xviii] See "Kim Jong Il Enjoys Art Performance of KPA Unit 10215" KCNA 17 February 2010 , "Kim Jong Il Enjoys Premiere Given by Ministry of Public Security" KCNA 21 February 2010 and "KJI Steps Out with the MPS" NK Leadership Watch (http://nkleadershipwatch.wordpress.com/2010/02/22/kji-steps-out-with-the-mps)
[xix] See "New Names Add Power to PSA in Troubled Times," Kim So Yeol, Daily NK 7 April 2010
[xx] See "KJI Attends Concerts with Internal Security Chiefs" NK Leadership Watch (http://nkleadershipwatch.wordpress.com/2010/04/18/kji-attends-concerts-with-internal-security-chiefs/)
[xxi] See "N. Korea's Rule of 4" Chosun Ilbo 9 June 2010. This report speculated that the regime is configured around a gang of four on the NDC: O Kuk Ryol, VMAR Kim Yong Chun, Jang and Gen. U Tong Chuk
[xxii] See "A Biography of Jang Song Thaek: The Juche Jump (Hey, Mr. Jang!)" Michael Madden Parallax: Journal of International Perspectives Volume VI No. 1, Fall 2009
[xxiii] See Mansourov in DPRK Policy Elites (op. cit.)
[xxiv] See Lim (op. cit.) p. 186, Note 150