PPJ and CRH Visit Their Home Provinces Prior to SPA
Two members of the core leadership conducted inspection tours of production units located in their respective home provinces.
DPRK Premier and State Affairs Commission Vice Chairman Pak Pong Ju conducted on-site inspections in North Hamgyo'ng Province.  He visited Kim Cha'ek Iron and Steel Complex and the Ch'o'ngjin Steel Plant.
At the Kim Ch'aek complex, he stressed the "the need to increase the production of Chuch'e Iron while reducing the consumption of oxygen and to establish in a modern style the shape steel production base needed for building the greenhouse farm."  During his inspection of the Ch'o'ngjin Steel Plant, Premier Pak discussed issues "arising in hastening the repairing of the revolving furnaces and ensuring their normal operating ratio and took measures for maintaining and reinforcing the production base as required by the Party's intention."
Pak also talked about issues "supplying in time and in a responsible manner the equipment and materials needed for projects at the construction sites of O'rgangch'o'n Power Station, P'alhyang Dam and Yombunchin Hotel."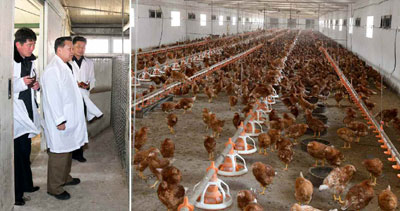 WPK Vice Chairman and State Affairs Commission Vice Chairman Choe Ryong Hae visited agricultural units in North Hwanghae Province.
He toured Migok Cooperative Farm in Sariwo'n where he "underlined the need for the farm positively introduce the advanced farming technologies and methods, increase the operating ratio of farm machines, do all the farm work in a sincere manner and thus always take the lead in glorifying the Party's leadership exploits."  At a visit to the Hwangju Country Farm Machine Station Choe remarked that the station "should properly ensure farm machine serving and production of accessories and invent and introduce new farming facilities through a good operation of its sci-tech learning space and that the Party's organizations should conduct a brisk mass movement for arousing the working people to the implementation of the Party policy."
Choe Ryong Hae also conducted inspection tours of the Sariwo'n Chicken Farm, the Sariwo'n Duck Fark and the Changcho'n Cooperative Farm in Hwangju Country.  He convened consultative meetings that "took measures for the Party officials to conduct a frontline-style political work among the producers and farmers in a unique manner in order to positively excite their revolutionary zeal and for relevant fields to supply farming materials in time."
Prior to visiting sites in North Hwanghae, Choe toured the Pyongyang Ostrich Farm.