Thursday is a SPA Day
The 14th Supreme People's Assembly [SPA] opens its five-year term of office with its first session.
In the days leading up to the SPA's convocation, Kim Jong Un (Kim Cho'ng-u'n) conducted a walk through of the renovated and expanded Taesong Department Store leading up to the store's grand re-opening.  Also in attendance were Light Industry Department Director An Jong Su (An Cho'ng-su) and other development and economic officials of the State Affairs Commission (explicitly ID'd by DPRK state media), as well as a few diplo-foreign policy types such as IAD deputy director and working level China conduit Kim Song Nam.
This might foreshadow an SPA opener focused on economic development (with Cabinet updates on the Five Year State Strategy) and external relations.   It remains to be seen if the WPK Central Committee or Politburo will convene ahead of or just after the SPA.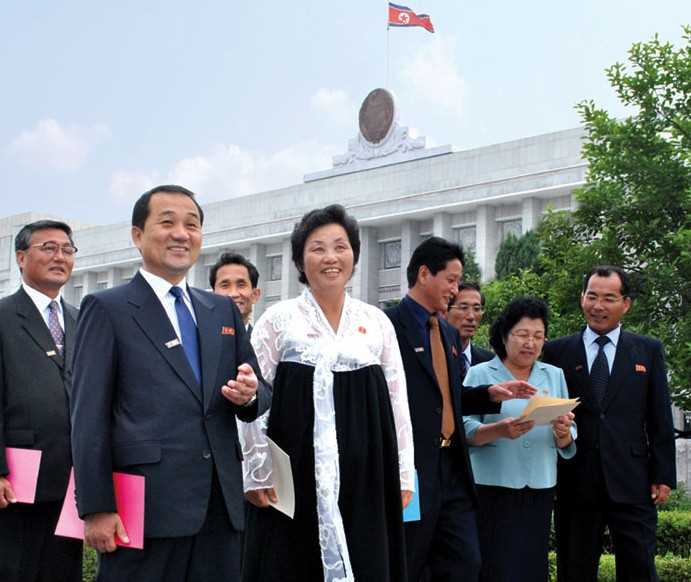 Deputies to the 14th SPA are
Han Song Guk
Yun Yong Chol
Pak Kum Hui
Kim Yun Sil
Kim Yo Jong
Kim Song Bong
Kim Yong Bok
Kim Tong Suk
Ri Song Chun
Hong So Hon
Sim Kyong Ok
Gil Kum Sun
Kim Myong Hwan
Kim Sok Nam
Kim Hyon
Ri Yong Hui
Jo Gil Ryo
Pang Sung Son
Kim Hye Ran
Ri Mi Ok
Choe Hui Thae
Hwang Sun Hui
Choe Ryong Hae
Ri Sung Ho
Ri Su Yong
Hong Song Kwang
O Yong Jae
Pak In Suk
Thae Hyong Chol
Yang Hyong Sop
Jong Myong Il
Jo Kum Ju
Jang Chol
Kim Song Hui
Ri Song Uk
Ri Myong Chol
Choe Song Ran
Kim Yong Pae
Cha Hui Rim
Choe Song Won
Sim Il Chol
Ri Man Gon
Rim Tong Hun
Ri Gun Il
Jo Myong Nam
Han Myong Hui
Kim Yong Nam
Kim Ki Nam
Pak Hyong Ryol
Ri Un Jong
Jo Ju Yong
Ri Pyong Chol
Ko Song Tok
Ham Chol Nam
Kim Kwang Uk
An Myong Gon
Ri Yong Suk
Kang Sung Chol
Kim Hae Song
Rim Kwang Ung
Jon Sung Nam
Jo Hyong Chol
Choe Chol Jung
Ryom Tok Chun
Pak Hyok
Jong Yong Suk
Yun Kye Su
Ri Yong Chol
Paek Sok Sun
Kim Jong Suk
Rim Won Chun
Kim Nung O
Jon Ha Rim
Ri Man Song
Ri Won Ok
Jo Jun Mo
Kim Jae Ok
Kim Jong Chol
Kang Phyo Yong
Kim Phyo Hun
Hwang Kang Chol
Hong Pyong Chol
Chae Myong Hak
An Myong Ok
Kim Yong Su
Kim Sung Du
Min Sang Gi
Choe Chang Gi
Ri Ryong Nam
Ri Chang Gun
Ri Kye Pong
Ri Gun Ho
Choe Chi Son
Yun Jong Guk
O Su Yong
Kim Kum Suk
Yun Yong Nam
Jang Jong Nam
Kim Sun Hwa
Kim Chang Gon
Kim Tok Hun
Jang Kyong Chol
Rim Tong Chol
Ri Il Hwan
O Yong Gon
Kim Tu Il
Choe Yong Il
Sim Tong Chol
Ryu Tu Hyon
Pak Pong Ju
Song Chang Ho
Choe Kwang Il
Choe Jang Il
Im Chol Ung
Ri Yong Chol
Mun Myong Hak
Yu Rim Ho
Kim Yong Dae
Ko Ki Chol
Ri Myong Hak
Yun Jong Sil
Kim Song Il
Sin O Chun
Han Chol
Kim Chun Son
So Kyong Sim
Ma Won Chun
Pak Thae Song
Yu Chol U
Ri Yong Chol
Ri Song Chol
Kim Chae Nam
Kim Man Song
Choe Yong Song
Kang Hyong Bong
Rim Tok Hwa
Kim Song Hui
Jang Sun Kum
Jon Kwang Ho
Ryu Won Song
Kim Ki Gun
Choe Yong Hui
Kang Chu Ryon
Kim Ok Ryon
O Yong Chol
Jong Yong Nam
Ju Yong Il
Kim Ung Sop
Sin Ung Sik
Ri Myong Hui
Kim Yong Chol
Mun Sun Hui
Kim Kwang Su
U Won Yong
Jon Hak Chol
Jo Won Thaek
Pak Tong Chol
Wang Chang Uk
Son Sok Gun
Jang Se Hyon
Pak Yong Jin
Kim Hyong Il
Kim Tong Il
Ri Gwon
Kim Kwang Hyok
Jang Yong Su
Jong Se Yong
Kim Yong Jin
Kim Myong Ho
Yun Tong Hyon
Kim Jong Gwan
Hwang Gun Il
Kim Myong Sik
Chin Chol Su
So Hong Chan
Yun Pyong Gwon
Kim Song Chol
No Kwang Chol
Kim Hyong Ryong
Son Chol Ju
Jo Kyong Chol
Kim Thaek Gu
Pak Su Il
Pang Kwan Bok
Ho Yong Chun
Ri Tu Song
Ri Tong Chun
Ri Yong Ju
An Ji Yong
Kim Sok Hong
Choe Tu Yong
Pak Myong Su
Ri Thae Sop
Ri Bong Chun
Ju Song Nam
Kim Kum Chol
Kim Sang Ryong
Pak Jong Chon
Song Sok Won
Kim Myong Nam
Kim Su Gil
Kim Kwang Su
Ri Man Guk
Song Yong Gon
Ko Myong Su
Ri Jong Nam
Ri Yong Gil
Kang Sun Nam
Hong Jong Tuk
Ri Kwang Ho
Ri Yong Chol
Hong Chol Gun
Jon Jae Gwon
Ju Tong Chol
Kim Kwang Hyok
Ri Myong Su
Kwak Chang Sik
Jo Thae San
Kim Yong Ho
Jang Il Su
Choe Pu Il
Kang Phil Hun
Ri Yong Hwan
Jon Thae Nam
Ro Kyong Chun
So Ran Hui
Ri Jong Ryol
Jong Yong Guk
Kim Man Su
Sin Ryong Man
O Jong Hui
Kim Hye Yong
Kang Ryong Mo
Pak Hui Min
Pak Jong Gun
Kim Hwa Song
So Chun Yong
Kim Jong Chol
Yang Sung Ho
Ho Chol Yong
Kim Kwang Un
Paek Jong Ran
Ri Yong Chun
Kim Kyong Ae
Son Hui Chol
Kim Kwang Song
Kim Myong Ok
Kang Won Sik
Ri Chang Sok
Hwang Chun Thaek
Kim Chol
Kim Yong Son
Kim Se Wan
Hong Kwang Hyok
Choe Chan Il
Kim Yong Sun
Kim Pyong Ho
Choe Yong Tok
Paek On
Jang Chang Ha
Kim Yong Gil
Kim Myong Chol
Ri Chung Gil
Kim Chol Ho
Paek In Chol
Kwon Song Ho
Jo Jong Mun
Ho Kwang Chun
Kim Il Guk
Cha Sung Su
Pak Thae Sik
Choe Kwang Chol
Kim Song Nam
Choe Myong Sil
Ryu Jong Guk
Ho Kwang Il
Pak Yong Sun
Kim Kum Sil
Ri Ju O
Mun Kyong Dok
Kim Yong Song
Ju Yong Sik
Choe Yong
Kim Kyong Hui
Choe Hyok Chol
Jong Kyong Il
Ri Chol Jin
Hang Chang Ho
O Hye Son
Ho Jong Ok
Kim Kyong Nam
Kim Yong Gyu
Kim Gun Chol
Han Tong Song
Hong Yong Chil
Mo Sung Gil
Choe Yong Song
Jo Yong Su
Choe Hak Chol
Paek Myong Chol
Paek Sun Yong
Ri Yong Chol
Choe Song Il
So Sung Chol
Kim Tong Sun
Kim Yong Chol
Kang Ji Yong
Pak Myong Chol
U Chang Sik
An Hye Song
Pak Pong Tok
Jang Yong Su
Yo Man Hyon
Choe Sun Chol
Ri Myong Chol
Paek Kyong Sin
Kim Ok Ryong
Kim Chang San
An Kyong Hwa
Hong Bong Chol
Mun In Chol
Ri Yong Chol
Kim Ik Chung
Kim Jong
Kim Son Hui
Kim Ung Chol
Kan Gil Yong
Ri Hwa Kyong
Kil Kyong Hui
Kim Ik Song
Ko In Ho
Kim Chang Yop
Choe Yong Sam
Ri Jae Sik
Kim Chang Nam
Mun Ung Jo
Pak Yong Ho
Kwon Jong Sil
Choe Hwi
Ri Hye Suk
Kim Yong Ae
Kim Thae Song
So Pyong Hwan
Song Won Gil
Kim Chun Do
Kang Jong Hui
Won Kyong Mo
Kim Thae Sik
Kim Chin Guk
Ri Chol Man
Kang Myong Chol
Pak Thae Dok
Chin Yon Sil
Hong Myong Gi
Choe Tong Yun
Kim Myong Chol
Yang Yong Gil
Choe Sung Ho
Ri Hong Sop
Pak Yon Ok
Kim Jong Ho
Ri Jong Suk
O In Nam
Jong Su Hyok
O Myong Chun
Jae Kang Hwan
Song Yun Hui
Kang Yun Sok
Ri Song Gwon
Ri Yong Rae
Ri Yong Ho
Ri Yong Sim
Paek Chun Gi
Jong Kyong Thaek
Choe Pyong Ryol
Pang Kang Su
Ri Kum Chol
Kim Yong Chol
Ri Kil Song
An Yong Hwan
Ri Hye Jong
Ro Kwang Sop
Kim Chol Guk
Ho Chol Nam
Ri Hang Gol
Ri Yong Sik
Ryang Jong Hun
Kim Chae Chol
Kim Chang Gwang
Jo Chol Song
Ko Kil Son
Kim Tae Song
Cha Jae Hui
Ko Jong Chol
Kim Jong Ok
Han I Chol
O Myong Song
Kwon Thae Yong
Pak Kum Song
Kim Tu Chol
Kim Jae Song
An Tong Chun
Ri Yong Jin
Ryu Myong Kum
Pak Myong Son
Nam Yong Suk
Ju Dong Chol
Choe Sin Uk
Ki Kwang Ho
Kim Yong Ho
Kim Jong Chol
Kim Wan Su
Pak Hye Suk
Ho Bong Il
Ri Jong Chol
Ho Ryong
Kim Jong Ok
Jang Ki Ho
Jo Yong Chol
Kim Kyong Sim
Jo Yon Jun
Yun Jae Hyok
Han Ung So
Ri Jong Hyok
Ri Kum Ok
Im Hun
Ro Tu Chol
An Yong Nam
Jang Hyok
Choe Chang Son
Kim Hye Ran
Jong Kwang Chol
Han Yong Ho
Kim Myong Hun
Jae Jong Sok
Kim Chon Ho
Kim Jae Ryong
Pak Chol Hun
Ham Nam Hyok
Thae Jong Su
Ri Yong Hon
Ri Sung Kum
Sin Kwan Chin
Ri Su Ryon
Kim Yong Il
Hong Sung Mu
So Kyong Ho
Pak Chun Gon
Kim Jong Yun
Pak Yong Bok
Ko Pyong Hyon
Ri Hyong Gun
So Kyong Chol
Kim Kwang Ju
Kim Tuk Hong
Chang Il Ryong
Kim Chang Gol
Song Jong Hak
Ri Sung Nyo
Ri Chol Ho
Jang Kum Hui
Rim Sun Hui
Pyon Ung Gyu
Choe Kwang Il
Jang Sung Ho
Ryu Kyong Ho
Pae Yong Suk
An Jong Su
Ri Yong Sik
Han Sang Chun
Won Nam Chol
Ri Chol Ho
Kim Jong Sim
Yom Yong Hak
Pak Kwang Song
Pak Jong Nam
U Jong Suk
Han Yong Chol
Ham Jong Chol
Son Kum Wol
Jo Song Chol
Pak Chol Min
Jon Chang Guk
Choe Son Hui
So Kwang Ok
Kye Hun Nyo
Hwang Man Bok
Ri Tu Il
Mun Yong Chol
Kim Kuk Chang
Ri Ik
Hwang Min
An Yong Sik
Nam Sung U
Sin Chol Hui
Pak Jong Ho
Ryu Jong Chol
Paek Jong Sun
Kim Kum Yong
Yu Kyong Hak
Ri Thae Jin
Yun Chol Ho
Mun Yong Son
Kim Myong Gil
Mun Sang Gwon
Ho Song Chol
Han Song Il
Ryu Kyong Suk
Kim Sung Jin
Kim Sung Gi
Pak Song Il
Kang Son
Ri Guk Chol
Kim Kwang Sik
Jang Song Chol
Ri Kyong Il
Ri Chang Ryong
Kim Chol Ha
Kim Chol Ryong
Ri Yu Chol
Kang Chol Ku
Kim Song Il
Song Chun Sop
Kim Sang Song
Jon Hye Song
Ho Thae Chol
Kang Jong Gwan
Ri Jong Mu
Kim Chol Su
Jang Chun Kun
Jang Chun Gun
Hwang Yong Sam
Kim Jong Dok
Kim Jong Sok
Ryom Chol Su
Kim Kwang Sok
Kim Hyon Jin
Ri Jong Hwa
Ju Hwa Suk
Yun Yong Il
Choe Jong Ho
Kim Bong Yong
Sok Won Chun
Nam Yong Hwa
Pak Chun Nam
Jon Song Guk
Ri Myong Chol
Ri Sung Nyon
Pak Chung U
Pang Chang Tok
Kang Song Hui
Kim Sok Sun
Jon Il
Han Ju Song
Ri Wan Ho
Pak Jong Hyon
Han Ryong Guk
Choe Il Ryong
Kim Song Bong
Ri Yong Ae
Kang Su Rin
Kim Tong Chun
Pak Hun
Choe Bok Sun
Han Chang Sun
Ju Jong Kyong
Kang Jong Ho
Jong Kyong Hwa
Ko Thae Ryong
Kim Kyong Ho
Kim Song Gu
Han Myong Hui
Kang Jong Sil
Kim Yong Gyu
Kim Kyong Jun
Tong Jong Ho
Ri Kang Son
Choe In Ho
Ri Tam
Thae Chin Hyok
Pyon Sung Gon
Kim Song
Ryang Yong Ho
Kim Kwang Nam
Choe Chu Chol
Tong Hun
Choe Yong Ho
Kim Song Won
Hong Kil Ho
Kim Hyon Myong
Kim Chol Ho
Kim Ki Song
Ri Chol
Kim Chang Gil
Ri Yong Son
Kang Yong Ju
Kang Yong Su
Ko Ju Kwang
Ri Sun Sil
Ri Gwi OK
Ri Hye Sun
Jon Song Man
Ho Thae Ryol
Ri Song Jae
Choe Il
Choe Un Sil
Rim Chun Hui
Kim Il
Yun Kang Ho
Choe Kwi Nam
Jo Kum Hui
Kim Hyong Jun
Ryang Won Jin
U Ung Ho
Choe Yong Suk
Kim Yong Ho
Ho Jong Man
Choe Yong Suk
Ri Yong Chol
Pak Kun Sok
Jang Chun Sil
Nam Hong Son
Pak In Su
Myong Song Chol
Phyo Il Sok
Kim Chung Gol
Ro Song Ung
Ri Hye Yong
Kim Ok Ryon
Kim Kwang Chol
Sin Chol Ung
Jon Han Gil
Ji Jae Ryong
O Kyong Sok
Kim Yong Sil
Jang Kil Ryong
Pak Chol Ho
Jong Hyong Suk
Choe Ryon Hui
Ri Sang Won
Kim Min Nam
Kim Sung Hui
Song Kum Nam
Ri Yong Il
Jon Tong Ho
Rim Chun Nam
Yang Myong Chol
Kim Kwang Ho
An Mun Hak
Kim Kang Il
Ri Song Guk
Yun Bok Nam
Han Su Gyong
Kim Sang Uk
Yon Kyong Chol
Ju Hang Gon
Kang Yang Mo
Pak Chun Ho
Song Sung Chol
Choe Tong Myong
Kang Tok Chun
Ri Kil Chun
Kim Tuk Sam
Jang Ryong Sik
Ko Jang Guk
Kim Phyong Hae
Jang Chol Chun
Yun Chun Hwa
Ri Kwang Chol
Kim Yong Jae
Kim Han Il
Pak Kwang Ho
Ri Nam Son
Kim Kye Gwan
Choe Sung Ryong
Ro Ik
Im Jong Sil
Jang Jae Ryong
Rim Kyong Man
Jo Kyong Guk
Sin In Ok
Sin Tong Ho
Sin Yong Chol
Choe Yong Bo
Han Jong Su
Jo Jong Ho
Sin Tong Su