Does KCI Have a Personal Reason for Not Meeting Carter?
Former US President Jimmy Carter visited and toured the DPRK, along a with part of a group of former world leaders called the Elders, during 26 to 28 April 2011.  The group visited locales in Pyongyang and P'yo'ngsong, the provincial capital of South P'yo'ngan.  They also held meetings with SPA Presidium President, Kim Yo'ng-nam [Kim Yong Nam] and with DPRK Foreign Minister Pak U'i-ch'un [Pak Ui Chun], vice minister of Foreign Affairs Yi Yo'ng-ho [Ri Yong Ho] and MOFA director, Choe Son-hu'i  [Choe Son Hui].  Former President Carter wrote a trip report on the Carter Center website <http://www.cartercenter.org/news/trip_reports/korean-peninsula-042211.html> part of which is excerpted below:
Wednesday morning we visited the University of Foreign Studies to meet with students, most of whom had chosen English as their foreign language (they spoke it perfectly), with Chinese the next most popular. They were studying to be diplomats, teachers, and interpreters. We then met with Kim Gye Gwan, who has always been the NK representative during 6-party talks and was a key advisor of Kim il Sung during my 1994 negotiations. He reiterated (as did others) their commitment to honor all facets of the "Agreed Framework" of 1994 and the 6-power "joint statement" of 9/05, but was undeviating in insisting on a simultaneous or step-by-step implementation of all the commitments. He could quote every word in the agreement.

Our next meeting with Head of State Kim Yong Nam was surprisingly negative and confrontational, filled with his condemnation of historical U.S. policy toward NK with my finally interrupting him and pointing out that he was concentrating exclusively on a negative and distorted picture of the past while we had come to look to the future with hopes of reconciling differences. He informed us that our request for the release of Eddie Jun would not be honored. Quite tardily, we finally departed with no easing of tension.

It was long past lunch time, so we drove northward for almost an hour to Pyongsong City, through a level river valley that was devoted to agriculture. On this entire trip I never saw a tractor or a draft animal; humans were doing all the work. (We later saw two or three cattle and tractors between Pyongyang and the airport.) It was not the time of year for most grain crops, but there were many vegetable fields and fruit trees were blooming. Already late, we had to cancel a visit to a cooperative farm, and concentrated our attention on families in private homes, a food distribution center, a hospital, a baby home, and a school for nurses. We were impressed with the three-year programs for nurses and midwives and with the responses of the students to our questions. Men are not permitted to be nurses, and only a small portion of medical doctors are women (less than 20 percent). They claimed to graduate 2,500 doctors annually from 11 medical universities.

The very large hospital, in several buildings, was very dark and had running water only in the operating room area, where major surgery was underway. They rely heavily on equipment and medicines from U.N. agencies. We saw no reason why a government that can develop advanced weapons cannot provide water for their hospitals.

We visited a young woman who had one toddler and was eight months pregnant, living in a small apartment with her husband's parents. She had served in the army for 10 years and was now working in a textile factory. She receives full pay during five months of maternity leave, and didn't complain although her food ration recently had been reduced to 350 grams of cereals (about 1,200 calories) per day, with the child getting 130 grams. World Food Program staff have been informed that the ration will soon be cut to 190 grams/day, or about 650 calories. On special occasions, the young woman and her husband can buy higher protein foods with money from their salaries.

After a brief stop at our guest house, we met with Major-General Pak Rim Su, who had greeted and escorted Rosalynn and me in Panmunjom on our 1994 visit. He described what happened at the recently aborted meeting on military affairs with SK, and expressed his desire to resume talks with them on any subjects and without pre-conditions. He also gave me photographs of American remains from the Korean War and offered to cooperate in the future, as agreed in 1994, in exploring for others.

We had a reception with the 23 foreign ambassadors and international agency personnel stationed in Pyongyang, with all of them eager to tell us about their unique perspectives and to learn about our experiences and plans for the future. We then entertained NK officials as hosts at supper, where the conversations were quite cordial, avoiding all controversy.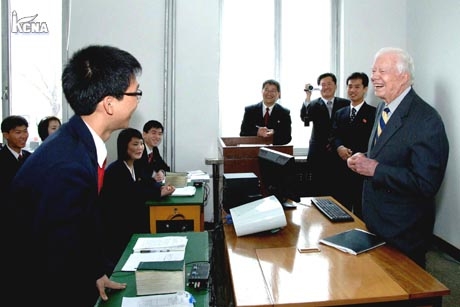 Carter last visited the DPRK for two days at the end of August 2010  At that time he met with Kim Yo'ng-nam, attended a concert and reception and secured the release (via an NDC Chairman's pardon) of an American arrested at the DPRK-PRC border.  Carter's August 2010 trip occurred at the same time as Kim Cho'ng-il's trip to northeastern China, KCI's second journey to PRC during 2010.  On his 2011 trip Carter (and the Elders) also did not meet with Kim Cho'ng-il.  Because Carter has twice traveled to the country, in less than year's time, ROK media reporting on this trip focused on Carter not being received by the center.
Carter's trip report alluded to his first trip to the country in 1994.  As mentioned above he met Pak Nim-su, who currently serves as director of the National Defense Commission Policy Department. His 16 June 1994 trip, and whom he met on it, may be one of the underlying reasons why Kim Cho'ng-il has not met Carter.  In a short biography on DPRK Ambassador, Kim P'yo'ng-il (Kim Pyong Il), "The Second Dauphin?", Nicolas Levi writes:
In 1994 when Kim Il Sung met Jimmy Carter, Kim Jong Il was not present.  Kim Il Sung told the former American President than Kim Jong Il may not be the following North Korean leader and was therefore not presented during their meeting…[it had been] rumored that Kim Pyong Il, instead of being ambassador to Finland, was appointed to an important post in the Korean Workers' Party Military Affairs Department…his mother Kim Song Ae made an extremely rare appearance when she joined her husband during the visit of Jimmy Carter and his wife Rosalynn on a pleasure boat on Taedong River in Pyongyang.
That Kim So'ng-ae met Carter in 1994 is likely one of the underlying reasons why Kim Cho'ng-il has twice refused to meet the 39th US President.  She is (or was) KCI's main political rival in the early 1970s.  As a member of the Party Central Committee, an SPA deputy and Chair of the Korean Democratic Women's Union, she advanced her status as the first lady and later advanced the succession candidacy of her second child, Kim P'yo'ng-il.  Kim So'ng-ae began a process of retracting official works about or praising Kim Cho'ng-suk (KCI's mother and KIS 1st wife), including purging authors who had authored the works.  When KCI took control of the party in the 1970s, works about Kim Cho'ng-suk resumed publication, Kim So'ng-ae was under surveillance, politically neutralized and her adult children sent to live abroad.
Other accounts of Kim Il-so'ng's final years (including Bradley Martin's book on the Kims) have wrestled with his possible, 20 years-too-late, change of heart on succession.  If these accounts are accurate, then it is likely Kim So'ng-ae had some involvement.  Her presence with Carter in 1994 would certainly have been interpreted with ulterior motives by KCI.  And with the center, personal relationship and personal connections can sometimes be the only criteria; it is not that Carter met KCI's father, but that Carter met his step-mother at a potentially sensitive time.
The origin of the rift between KCI and Kim So'ng-ae is not political, but personal.  Kim So'ng-ae was an assistant in Kim Il-so'ng's household, whom KIS married some time after Kim Cho'ng-suk died in 1949.  When the Korean War ended and Kim Cho'ng-il and Kim Kyo'ng-hu'i returned to the DPRK, they discovered that their father re-married and had children with a person they viewed as household help.  According to some accounts, Kim So'ng-ae treated Kim Kyo'ng-hu'i badly and required KCI's protection.
Since the early 1960s Kim Kyo'ng-hu'i has refused to acknowledge any relationship to Kim So'ng-ae.  Kim Kyo'ng-hu'i has been the key personality in determining and regulating the political and social status among the Kims (including main branches and side branches), as well as the other revolutionary families and DPRK elites.  Since 2009  Kim Cho'ng-il has increasingly used his sister as one of his key gatekeepers.  She has been observed corralling sundry Kim relatives and personal aides at KCI's guidance tours and issuing instructions to his personal security escort.  She also holds terrific influence with whom her brother meets.  Given her history and intense consciousness of the protocol of personal relations in DPRK political culture, Kim Kyo'ng-hu'i may be a major obstacle in why KCI has not met Carter.
A connection to Kim So'ng-ae preventing access to the center is nothing new.  Among the DPRK officials Carter saw during his last trip, that he had met in 1994, was Kim Kye-kwan.  Kim delivered KCI's written message to Carter and the Elders at the airport prior to their departure to Soul [Seoul].  While Pyongyang watchers know Kim Kye-kwan as the country's key nuclear diplomatic manager and negotiator, he spent part of his career as Kim So'ng-ae's English interpreter when she met foreigners as the DPRK's first lady.  While Kim Kye-kwan's career has continued to advance at the Ministry of Foreign Affairs, his prior relationship to Kim So'ng-ae has occasionally been a detriment and initially viewed with suspicion by the central leadership.