Choe Hwi (Ch'oe Hwi)
updated and revised 23 March 2022

Choe Hwi [Ch'oe Hwi] is a Member of the Workers' Party of Korea [WPK] Central Committee and deputy to the Supreme People's Assembly [SPA]
Choe has spent the early part of his career as an education official of the Youth League.  His first significant position was during the mid-1980s as a manager of the P'ibada (Sea of Blood) Opera Troupe.  In 1987 he was appointed head of the Pyongyang Art Troupe.    During the late 1990s Choe served as a Vice Chairman of Pommrinyon (Pan National Alliance for Korea's Unification) and participated in unification and inter-Korea-oriented events.
In 1996, Choe Hwi migrated over to the Youth League and served a secretary on its Central Committee, focused on extracurricular education.  He accompanied the Pyongyang Schoolchildren's Art Troupe on a visit to China in 1999. In 2000 he returned to heading up the Pyongyang Art Troupe he was the vice chairman of the DPRK-Sudan Friendship Association.  In 2004 he was working as a WPK Central Committee Department deputy director, most the Propaganda and Agitation Department [PAD].  During the late 2000s he attended courses at Kim Il Sung Higher Party School.  He was involved in the establishment of the U'nhasu Orchestra and the Moranbong Band.
In April 2013 Choe was appointed senior deputy director of the WPK Propaganda and Agitation Department, although some sources claim he was working in the Organization Guidance Department [OGD].  During 2013 and 2014 he was a relatively routine member of Kim Jong Un's (Kim Cho'ng-u'n's) entourage during on-site visits and inspections.  He was elected a deputy to the 13th Supreme People's Assembly in March 2014.  In December 2015, Choe Hwi led the Merited State Choir (State Merited Chorus) and the Moranbong Band on a railway visit to China for a limited series of concerts.  At the last minute, the concerts were canceled.
Choe Hwi spoke at the opening session of the 7th Party Congress in May 2016.  During the party congress he was elected a member of the WPK Central Committee.
During the second plenary meeting of the 7th WPK Central Committee, held during October 2017, Choe was elected an alternate (candidate) member of the WPK Political Bureau.  He was also elected WPK Vice Chairman for Workers' and Social Organizations.  In December 2017, Choe Hwi replaced Choe Ryong Hae as Chairman of the National Physical Culture and Sports Guidance Commission.  Choe was part of a high delegation which traveled to South Korea for the Winter Olympics in February 2018.  During his time in the ROK, Choe was part of a delegation which met with ROK government officials including President Moon Jae-in.
During the 8th Party Congress In January 2021, Choe Hwi was appointed as a Central Committee Department Director, probably as director of the newly constituted WPK Arts and Culture Department.  He was dropped from the WPK Secretariat (f.k.a., Executive Policy Bureau) and as an alternate member of the Political Bureau.  His name has not appeared in DPRK state media for much of 2021 and he may have been removed from office.
Choe was born in 1954.  He is the son of Choe Jae Ha, a construction engineer who played a major role in Pyongyang's post-war reconstruction efforts.  Choe attended and Namsan School and Kim Il Sung University.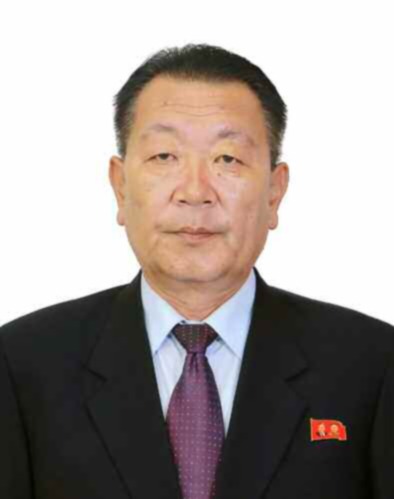 Choe Hwi

Member, 8th WPK Central Committee

Deputy, Supreme People's Assembly

1985: manager, P'ibada Opera Troupe

1987: manager, Pyongyang Art Troupe

1996: (January) Elected, Secretary, Kim Il Sung Youth League

2000: manager Pyongyang Art Troupe

2004: Appointed, WPK Central Committee Department Deputy Director

2013: Appointed, WPK Central Committee Propaganda and Agitation Department Senior Deputy Director

(December) Member, Kim Kuk T'ae Funeral Committee

2014: (March) Elected, Deputy, 13th Supreme People's Assembly

(July) Member, Jon Pyong Ho Funeral Committee

2015: (November) Member, Ri Ul Sol Funeral Committee

(December) Member, Kim Yang Gon Funeral Committee

2016:  (May) Elected, Member, 7th WPK Central Committee

2017: (October) Elected, Alternate Member, WPK Political Bureau

WPK Vice Chairman for Workers' and Social Organizations

(December) Appointed, Chairman State Physical and Culture Sports Guidance Commission

2019: Elected, 14th Supreme People's Assembly

2021: Elected, Member, 8th Party Central Committee

Appointed, Central Committee Department Director
Compiled from DPRK and ROK open sources and interview data acquired in 2013; "Pyongyang Schoolchildren's Art Troupe Leaves," Korean Central News Agency, August 16, 1999; "Kim Jong Un Meets Creators, Artists of U'nhasu Orchestra," Korean Central News Agency, May 8, 2013; "Kim Jong Un Visits Mansudae Art Studio," Korean Central Broadcasting Station (in Korean), May 12, 2013; "Report of the Central Election Committee on the Election Results of deputies to the 13th Supreme People's Assembly," Korean Central News Agency (in Korean), March 11, 2014; "State Funeral Committee for Jon Pyong Ho," Korean Central Broadcasting Station (in Korean), July 9, 2014; "State Funeral Committee  for Ri Ul Sol," Rodong Sinmun (in Korean), November 9, 2015; "North Korea's Girl Band Coming To China," Sina, December 10, 2015; "State Funeral Committee for Kim Yang Gon," Rodong Sinmun (in Korean), December 30, 2015; "Fourth and Final Day of the 7th Party Congress," NK Leadership Watch, May 10, 2016; "WPK Central Committee and WPK Central Auditing Commission Meet," NK Leadership Watch, May 10, 2016; "State Funeral Committee for Kang Sok Ju," Rodong Sinmun (in Korean), May 21, 2016