Gen. Ju Sang Song (Chu Sang-so'ng)
updated February 25, 2018

General Ju Sang Song [Chu Sang-so'ng] is the head of a People's Security Department in South P'yo'ngan Province.  He is a former Minister of People's Security.  On 16 March 2011 the DPRK media reported that he was "dismissed from his post due to illness."  In 2013 he appeared in DPRK state media paying his respects at a cemetery with war veterans and was identified as a local People's Security Department chief.
Gen. Ju was the DPRK's chief of domestic law enforcement, and participated with Gen. U To'ng-chuk in the consolidation of command and control of the country's internal security services.  During his tenure at MPS he traveled overseas on several occasions and a primary player in joint DPRK-PRC border patrol management.
Ju Sang Song was born in Kangwo'n Province in 1933.  He attended Kim Il-so'ng Military University.  He was elected alternate [candidate] membership on Workers' Party of Korea [WPK] Central Committee at the 5th Party Congress in 1970.  Ju served as a brigade commander and division commander in the 1970s.
Ju was first elected a deputy to the Supreme People's Assembly in 1990 (9th SPA) and was elected to full [regular] membership in the WPK Central Committee at its 19th plenum (6th Term/6th CC) on December 24, 1991.  He was promoted to Colonel General in April 1992 (a promotions' class which included current KPA leaders Gens. Hyo'n Ch'o'l-hae (Director, NDC Standing Bureau) and Kim Myo'ng-kuk (Director, GSD Operations Bureau).  He was ranked #87 on Kim Il-so'ng's Funeral Committee in July 1994, and was a member of O Chin-u's Funeral Committee in February 1995.
Ju Sang Song was promoted to General in February 1997 on Kim Jong Il's 55th Birthday.  Gen. Ju assumed command of IV Army Corps in South Hwanghae Province.  Gen. Ju was recalled to Pyongyang in late 2003 and replaced Choe Yong Su as Minister of Public [People's] Security in July 2004.
Gen. Ju was elected to the National Defense Commission at the first plenum of the 12th SPA in April 2009, part of an expansion of the NDC's membership from eight members to 12.
In 2009 and 2010 Gen. Ju  attended several guidance visits and concerts with Kim Cho'ng-il.  At a concert given by an MPS ensemble in late November 2009, Senior Vice Minister of State, U To'ng-chuk (who also joined the NDC in 2009)  Gen. Ju and MPS political director, Col. Gen. Ri Pyong Sam [Yi Pyo'ng-sam] was seen on a documentary film receiving instructions from Kim Jong Il.
In the spring of 2010 the Ministry of Public Security migrated away from the DPRK Cabinet and renamed the Ministry of People's Security.  The MPS political director became political director of the Korean People's Internal Security Force.  This represented the consolidation of the country's law enforcement agency with the regime's other internal security agencies.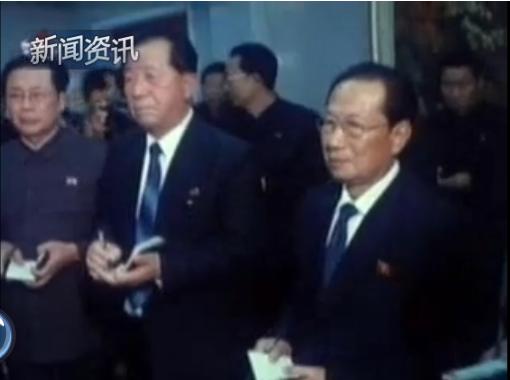 In September 2010 Ju was re-elected as a member of the WPK Central Committee and was elected a member of the WPK Political Bureau.  Ju was also on the reviewing stand for the military parade held to commemorate the 65th anniversary of the WPK in October 2010.  Gen. Ju remained active at least several weeks ahead of his retirement.  He was reported to have participated in several meetings and attended events during PRC Public Security Minister Meng Jianzhu in February 2011.
Chu Sang-song's last known appearance as a senior DPRK official was on around 26 February when he was reported to have attended a performance of the Song and Dance Ensemble of the Korean People's Internal Security Forces, together with Kim Cho'ng-il at the Ponghwa Art Theater in Pyongyang.  On 16 March 2011 KCNA reported, "Ju Sang Song, minister of People's Security of the National Defence Commission of the DPRK, was dismissed from his post due to illness."
Gen. Ju Sang Song

1970: Elected Candidate Member, 5th WPK Central Committee

1990: Deputy, 9th SPA

1991: Elected, Member, 6th WPK Central Committee

1992: Promoted, Colonel General, KPA

1994: Member, Kim Il Sung Funeral Committee

1995: Member, O Jin U Funeral Committee

1997:  Promoted, General, KPA

Assigned command, IV Army Corps

1998:  Deputy, 10th SPA

2003:  Deputy, 11th SPA

2004:  Appointed, Minister of Public Security

2009:  Deputy, 12th SPA

Member, National Defense Commission

2010: Title changed to Minister of People's Security

Elected, Member, WPK Political Bureau

2011: "Dismissed" from position because of health problem

2012: Appointed, head of People's Security Department, P'yo'ngwan County
See also:
Gause, Ken E. North Korean Civil-Military Trends: Military-First Politics to a Point.  (Carlisle, PA: USAWC Strategic Studies Institute, September 2006) pp. 23; 37; 61.
"Profile of Newly Appointed DPRK Minister of People's Security," Vantage Point (Seoul: August 2004)
Yonhap News Agency.  The North Korea Handbook (Armonk, NY: ME Sharpe , 2003) p. 812