Man of the Hour: Kim Song Nam
On 11 March, Syrian Ambassador to the DPRK, Tammam Sulaiman, went around the Mansudae Assembly Hall for a series of goodbye visits with his DPRK counterparts.  One of Ambassador Sulaiman's fare well interactions was with Workers' Party of Korea [WPK] International Affairs Department [IAD] Director Kim Song Nam (Kim So'ng-nam).
Kim Song Nam is typical of civilian DPRK elites who have risen to top positions under Kim Jong Un [KJU].  He has risen gradually and successively in his career.  He has deep institutional knowledge (i.e., knows where the bodies are buried) and practical career experience and/or accomplishments.  He has worked in close quarters with all three Kim's which means he knows how to convey information and advice to KJU in a way that holds the Suryo'ng's attention.
Termed North Korea's "China master" by PRC policy elites, Kim Song Nam has spent his entire career in successive positions at IAD.  He was born in North P'yo'ngan Province in 1953 and studied as a university and graduate student in China for several years.  There is no evidence or sourcing which claims that Kim is related to, or from, one of the DPRK's revolutionary families and further research and data collection about his origins is necessary.  However, given that Kim began his post-secondary education and career at a time when the So'ngbun caste system was in full effect, Kim most likely comes from the upper-echelon "core class."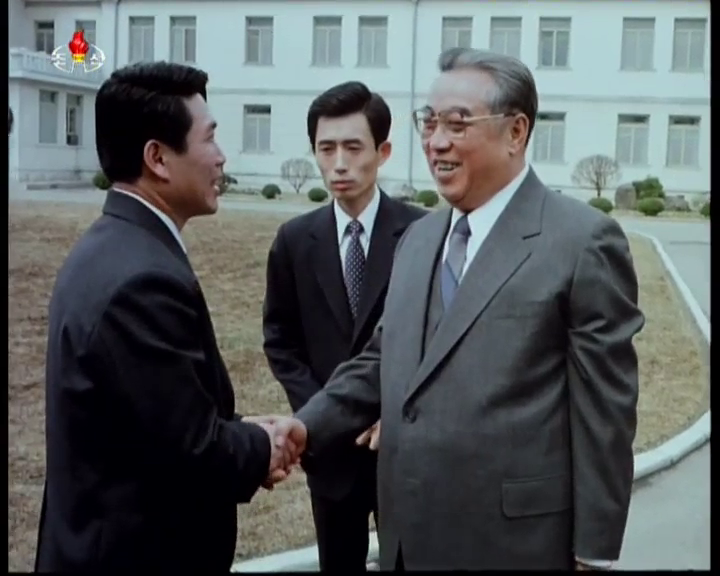 Kim Song Nam worked as an IAD protocol cadre.    In this position, Kim was tasked as a subject matter expert on China and worked as a Chinese language interpreter for interactions and events between DPRK and Chinese elites.  He would eventually serve as an interpreter for late DPRK President Kim Il Sung and late DPRK leader Kim Jong Il.  The IAD's influence on North Korean foreign policy waned during the early 1990s.  With Kim Jong Il's penchant for stovepiping and informal control networks, IAD was charged to coordinate relations with friendly "fraternal" countries like China and Cuba, took on civilian-staffed intelligence tasks, and also served as a personnel bench for foreign policy cadres who ended up being assigned to the Foreign Ministry or the United Front Department [UFD].  As a China hand, Kim remained at IAD during this institutional nadir.  This gave him time to hone his knowledge and develop social ties with other influential elites like the late Kim Yang Gon (Kim Yang-ko'n).
During late 2009, the IAD was repurposed.  This was due in large part to China granting the DPRK's request for party-to-party relations (WPK–>CPC), as against state-to-state relations (i.e., between foreign ministries).  IAD was given a permanent director and Kim Song Nam was appointed a deputy director.  In that position, Kim would travel on all four of Kim Jong Il's unofficial foreign visits during 2010 and 2011.  Kim was part of Choe Ryong Hae's (Ch'oe Ryo'ng-hae) delegation to China in May 2013, and led a separate IAD delegation during July 2013.
At the 7th Party Congress in May 2016, Kim was elected to alternate (candidate) status on the Central Committee.  He was upgraded to full Central Committee membership in April 2018, between after KJU's first and second meetings with Xi Jinping, and two months prior to the convocation of the Singapore Summit.  Kim Song Nam would be promoted to IAD Senior Deputy (1st Vice) Director in September 2018.  He was a member of KJU's travel party to the Hanoi Summit in February 2019.  On 10 March 2019, Kim was elected a deputy to the 14th Supreme People's Assembly [SPA].
In January 2021, at the Central Committee's sideline plenum during the 8th Party Congress, Kim Song Nam was appointed IAD Director.  In contrast to his two immediate predecessors as IAD boss, Kim was not immediately granted Political Bureau status.  Curiously, it took seven weeks for Kim Song Nam's election to alternate (candidate) status on the Political Bureau.  On 29 September, Kim replaced Ri Su Yong as Chairman of the SPA Foreign Affairs Committee.  He was also elected to membership on the State Affairs Commission, the DPRK's supreme power organization.
With the turn of the New Year in 2022, the DPRK has embarked on an aggressive schedule of missile and munitions testing.  The 2022 elections in the ROK installed a president-elect who places CVID and human rights to the top of the inter-Korean policy agenda.  Even if the North were pursuing the bare minimum of rapprochement with the South, these are non-starters for Pyongyang.  Weapons testing essentially sidelines all but the most basic foreign engagement functions of the DPRK Foreign Ministry and the inter-Korean stalemate (which will simply prolong itself over the next 3-4 years, at the least) renders UFD into a clearinghouse for interesting and provocative communique.  North Korea, however, will consistently engage with China.  This makes the IAD that Kim Song Nam leads the country's lead institution for foreign policy and foreign engagement.